This is what it's all about. The months of planning, the dark, cold mornings when you drag your unwilling ass out of bed to get to work to pay for these trips and the endless waiting for the countdown to reach zero. The first day dawns like a glorious new era, with all that real-life crap behind you along with the exhausting travel day. The endless possibilities of your trip stretching out before you as your T-shirt fits you the best it will for the foreseeable future.
Despite all of that, waking at 3am as I did was a big fat nope. I managed to get back to sleep until a much more respectable 6.30 before venturing downstairs to make the first of many checks on Dorian's path. It was still a good few days away but that didn't stop the TV from having 24-hour rolling coverage.
I showered and waited for others to appear. Freddie was soon ready to go.
and at a decent effort of 7.45am we were out of the door. Having failed at the whole supermarket thing last night, the cupboards were literally bare so we needed feeding and quick.
I had spotted a McDonalds on the way in last night and that was selected by me, without any consultation with anyone else, as it would be quick and not delay our arrival at Magic Kingdom any more than absolutely necessary.
We decided to eat inside and despite having to wipe our own table and order our own food on the big screen thing, it hit the spot. Look at how sunny it was and how it made the photos I took so great.
There were all sorts of sugar and salt-based goodies consumed in short order for the princely sum of $32. It would be the cheapest meal we would consume all holiday.
Not that I was keeping a track of time like some anal time-obsessed idiot, but we left McDonalds at 8.32am and arrived at the gates to Magic Kingdom at 8.50.
Not those gates….
These…
We paid the $25 for parking. Now, you know I am willing to gift Disney all of my money all of the time, but I have to say the parking fee is getting a little silly now. I know we are off-site scum who don't hold an annual pass, and those are some ways to avoid it, but that is a high fee. Still, it could have been worse. We could have been one of those "characters" who sing to the cast member because they heard it can get them free parking. Just stop it!
We parked in Simba 117 and walked the inevitable walk from the very bottom of the row to the tram.
Getting six bodies and a stroller onto the tram isn't easy, but by the end of this holiday, we could do it with our eyes closed.
Due to ongoing work, the tram doesn't take you all the way in currently. It stops just outside of Tampa and you have to walk in the rest of the way.
At this point, some families may have a debate about how to get across the water to the park itself. Not on day one you don't. Every second counts and anyone suggesting the ferry will be sleeping with the fishes.
There was a torturous wait as Rebecca took Freddie for a nappy change and I hid my burning desire to get into the park quite well I thought.
I mentioned in the previous day that I had abandoned the traditional bright white trainer for a more conservative black pair. To ensure that our party would continue to bring down aircraft with their footwear, both Emily and Louise had taken up the mantle.
We boarded the monorail, all craning our necks for that all-important first glimpse of the castle.
It is difficult for someone like me, with my weak grasp of writing, to express how this time and journey feels. You'll know if you've done it I think. It goes without saying that I would sacrifice most of my major organs (not that one!) to be back in this moment.
Finally….finally….after a journey both real and metaphorical, we arrive at the turnstiles. We start to scan bands and fingers, mere moments from the first walk up Main Street. Wait, what? Emily is having problems. The cast member raises their hand so another one in a different uniform is summoned. Much scanning of bands, clicking of iPads and typing of stuff happens. I even get my photo taken for reasons I don't understand. All that matters is that finally we are released into the Magic. Apparently, the issue was caused by Emily having her own My Disney Experience account, yet her ticket was linked to mine. That whole linking thing is more complex than Brexit.
Having realised that she had forgotten her magic band halfway to Manchester airport, Emily needed to get herself a new one. We did so in the very first shop we came across after doing a quick Facebook live of our first fateful steps in the park.
I have tried to embed that video here. It's on Facebook so it may not work for some or all of you. To see it, I guess you'd need to Like the Mkingdon Facebook page, but frankly, if you haven't done that already, it serves you right.
We linked the band up there and then in the shop and carried on up through the shops on our way to Pirates. We were very much soaking in every aspect of the park as if we'd never set foot in it before. This is a special time.
It was hot and sticky already, so Tom and Freddie took the welcome water of the camel.
Pirates had a fifteen-minute wait posted but it was a walk-on as you'd expect at this time. We don't tend to use the Memory Maker as we should so I feel compelled to inflict the ride photo on you to feel that I am getting some value from it, despite getting it for "free".
As you can see, Rebecca had already purchased her bride ears ready for next year. Tom said he'd wait! 🙂
Freddie loved the ride, especially the small drop and the bit where we all got splashed with a cannonball. I know it doesn't particularly look like it on the photo but the joy of the first ride stayed with us as we left it, and waited for Rebecca to restroom. I collected the stroller and we all moved on to Big Thunder and our first FastPass.
As Freddie's body clock was adjusting he was now in this state….
so Louise volunteered to sit out with him and she got us all some drinks for after our ride. After the wildest ride in the wilderness, we were headed to Haunted Mansion, but in a spectacular bit of unco-ordinated restrooming, Louise desperately needed to pay a visit. Rebecca, Tom and Emily set off for the Mansion whilst Lousie transferred Ryan, Freddie and other bits and bobs to me. Louise headed off and I set off to catch up with the others.
We were too early for our FastPass but the standby queue was short so I said that I would stay with Freddie whilst the others rode. I wrote up my notes so far, and waited for Louise to bear down and then catch up. After a while, I went to message her to find out where she was only to realise that she had left her phone in Ryan, so that wasn't going to work. After several minutes of waiting, I got a bit bored, and that's usually a recipe for trouble…for Louise.
I opened up her phone and did some mischief. Just for clarity, ICE1, is Louise. She is, and I advise you all to do the same, stored as my "In Case Of Emergency" (ICE) in my phone.
I took most joy from the fact that for the ten minutes that Emily, Tom and Rebecca were on the ride they really thought Louise had sent those messages. It's the small things……
Louise, of course, found it absolutely hilarious as she openly displayed by rolling her eyes and looking at me with disdain and pity once she was reunited with her phone.
Once we were all back together, guess what we did? Yes, we stopped at the Tangled restrooms. Of course we did.
At one of these toilet stops I'm sure I will actually use a restroom at some point.
With Freddie still sleeping we decided to take the opportunity for a snack, which after a quick analysis of where we were and what was on offer, turned into an early lunch at Pinocchio's Haus thing. We sat outside and I mobile ordered. It's much easier to do that with a larger group, as every time we all stand at the till staring up at the menu trying to order in real-time, someone or something gets missed.
Once we'd collected the food we sat inside as the concrete was melting outside.
Tom – Nuggets
Rebecca & Freddie – Pasta Marinara
Me – Chicken Parm Burger
Emily – Flatbread
Louise – Bread Sticks as she wasn't that hungry.
With slushes and sodas all round it was $94.
Naturally, a restroom was required after eating after which we headed out into the now incredible heat and the Carousel.
There was no wait and Freddie absolutely loved it, mastering the "wave at the grandparents" thing like a natural.
Philharmagic next.
Again, Freddie loved it despite not getting on too well with the 3D glasses.
It's A Small World had a ten-minute standby and offered an escape from the heat so we did that next. This was right up there in the Freddie appreciation charts. He absolutely loved it. Again, I did a Facebook live here and I'll try to put it here…..
Completing the set of Fantasyland stuff, our FastPass for Pete Pan was due. It's as if all this had been planned.
As we left the ride, having now used all of our FastPasses, I booted up the app and made another for Barnstormer later that day, so Freddie could ride his first coaster.
As we had done much more restrooming than eating today I tried to remedy that now with some ice cream. We went to Friar's Nook and got some very tasty stuff.
I won't name any names, but some members of the group said they "didn't want any ice cream" but then somehow ate a large proportion of said ice cream once they had tasted it.
That Key Lime stuff that I bought, but Emily seems to be eating, was absolutely delicious. I patted myself on the back for managing to capture such a flattering photo of Louise there.
It was parade time now, and we just managed to catch some of it after walking through the castle and onto one of the ramps leading down to Main Street. It was a great last-minute view and the five minutes of rain that we had at the time was not unpleasant and quite welcome.
It was Barnstormer time now. As we arrived we offered up Freddie for the measuring stick. We knew it would be close, and it took an excruciating few moments for the cast member to reach their verdict. He could get his finger between the top of Freddie's head and the stick and therefore he couldn't ride. We were mildly disappointed, but do not give up hope dear reader, that part of the story does not end there.
I cancelled the FastPass and booked Buzz instead. In the meantime, we had a sit-down, a restroom of course and Freddie and Tom played in the water for a bit.
I have always said that there is no "good age" to take kids to WDW. Take them as soon as you can afford to do so and as often as you can….always. Seeing the day that Freddie was having today and would continue to have throughout the holiday, I will wrestle anyone who disagrees.
I took the chance to take some pictures of the progress being made on Tron. It is HUGE and promises to be a significant addition to the park.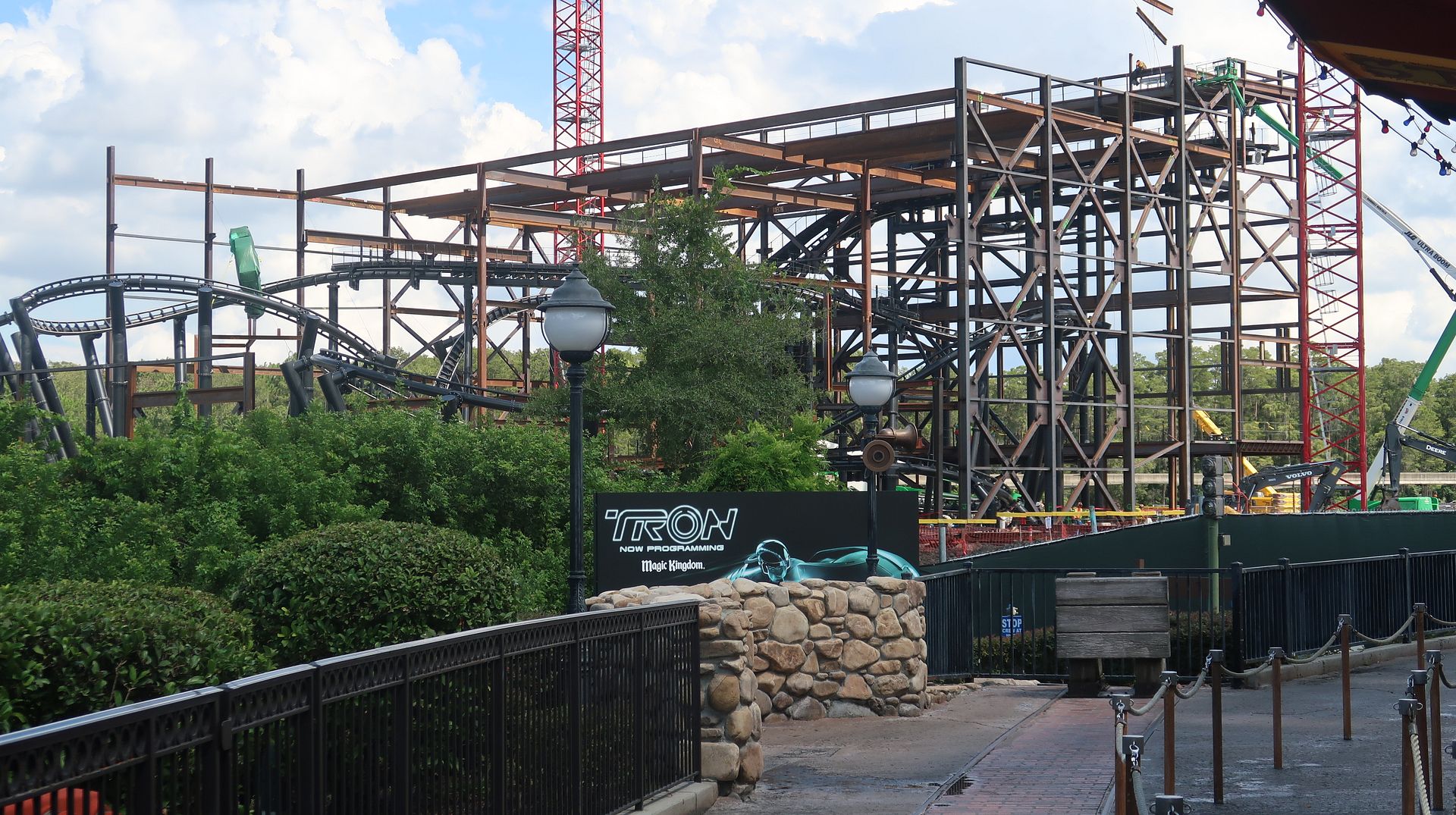 As another piece of planning genius unfolded before our very eyes, our Buzz FastPass was now ready so we made our way over there. I do think it unkind of Disney to take photos of folks when they are concentrating on beating their family at shooting targets.
Oh and due to an error on my part, where I scanned the wrong button, we seem to have a photo of a random couple on our account. Say hello!
It is both cool and a little tragic that I turn my cap around so that it does not impede my vision…..
and look at this classic……
Louise sat out in the sun for this one avoiding photographic shaming.
We were done at this point and we headed out to the car via tram and monorail. Tom and I dropped the ladies at the villa so they could begin the getting ready and we went to the Publix that we found closed last night. $220 later, we had a full trunk and soon a full fridge back at the villa.
After showers for all and some waiting for the males, we headed out for Outback at Formosa Gardens. Freddie was a little tired, as you can see….
but he did brilliantly as we ordered and ate.
He watched some Wallace and Gromit on his Dad's phone and was even entrusted with the camera as a distraction for a while….
We had the customary Bloomin' Onion….
Then….
Louise – Garlic Medallions of Steak
Rebecca – Sirlion (half-eaten)
Emily – A cheesy pasta thing, being the only Veggie option.
Freddie – Nuggets
I had a lovely steak and shrimp thing, but forgot to photograph it. I get better at this. It was our first night, forgive me.
Tom – An Quesadilla burger which escaped the camera also.
It was all very, very delicious. The bill with a 20% tip, was $178.
We barely managed it home awake. Bed at 10. That, my friends, is a very good effort at an excellent first day. We had a blast.
Till the next time……