Tuesday 10th January
There's no such thing as too early when it comes to being awake, up and ready to get to the theme park on your first day to maximise that time difference. Unless it's 2am. Then it stinks.
I managed to get back to sleep until 3.45 and that was it. Emily and Louise started getting ready around 5am and during that saga I was on the app booking expensive stuff in the hope of a decent day in the park. For reasons I cannot explain I was able to buy Genie+ at 6.15 and not 7am. Once 7am rolled around I booked our first LL. We were out the door by 7.20 and did the short drive to Magic Kingdom.
I know we'd been awake for hours now, but it was still pleasing to be at the TTC at such an early hour. As you can see, my post-wake-up exercise regime had already burned an impressive amount of calories.
Whether you were last here a few months ago or a few decades, there is something quite special about that moment when you get through the turnstiles and see this.
Prior to this, we had walked in from our very near the front parking space (Aladdin) and I had been pulled at security again, this time due to a glasses case and we had taken the monorail, which involved no queue. A good sign compared to last year.
We did the usual walk up Main Street, full of smiles, relief and anticipation for the holiday ahead and took a clumsy Facebook live video which you can probably still see on the Mkingdon Facebook page if you wish.
We were using our special on-site early entry access at this time. This is not something we have been able to do too often over the years as we are typically off-site idiots and treated accordingly by Disney. So I was pretty excited to get at least a dozen rides in during this half an hour special period.
My conclusion about Early Entry? It's bobbins. Here's how it went.
Because we had the audacity to wander up the castle and have a look around, there were huge crowds gathered at all the rope drop locations by the time we figured out this was a thing.
We joined the back of one of the rope drop crowds and waited about fifteen minutes for 8.30 to roll around. At that point, it quickly became apparent that only a handful of attractions were open and they all immediately gained huge queues as all the on-site folks piled onto them. The Seven Dwarves coaster for example saw its queue end somewhere around Dumbo within minutes of the rope drop. We walked down towards Haunted Mansion, seeing any ride that was open being attacked by a swarm of on-site early entry folks only to discover that it was not on the list of rides opening early and so we joined another rope drop crowd until 9am.
We were right up at the rope for this one, so we were within the first dozen or so folks to get onto the ride that day. Come on Disney. Either do Early Entry properly or don't do it at all. This is a chocolate teapot for most people. It should be for an hour and all rides should be open. Unless I'm staying off-site then it shouldn't exist at all. Capiche?
Having been on WDW property since around 7.30 and having conquered zero rides in early entry and one by 9.10, breakfast was the next priority. There was literally nowhere to get food anywhere in Frontierland or Fantasyland so we walked back to Sleepy Hollow and joined a very large queue there. Why have early entry and have nothing open?
We eventually got one of these each and a coffee.
I had made a 9.45 LL for Splash earlier so that was our destination now. It was a priority as we knew its days were numbered. Louise decided not to ride as she did not want to get wet in the current temperatures.
I took more photos than I normally might for posterity, which did nothing to improve their quality.
I was particularly proud of this one.
Now moist, we headed over to the Buzz LL I had booked since entering Splash. You just have to be constantly thinking about when and what you can book next to get any value out of the extra expense for Genie+.
I moan about this a lot, but again on this trip, we were beset with line ditherers. This is people approaching the LL entrance with no clue or concept as to what they were doing. They engage in endless conversations with the CM on duty about who knows what, causing us to stand and twiddle our thumbs waiting to get in.
You either have LL or you don't. There is no conversation. Also, have your tickets out ready to scan, or FFS get a magic band. The number of people we stood behind whilst they searched desperately for their park ticket at the bottom of the largest bag on the planet was incredible. Just a little bit of thought and preparation means that everyone gets on stuff nice and quickly.
So yes, this happened now at Buzz.
Here he is recreating my expression whilst we waited for a family of 27 to try and scan their blockbuster video cards at the entrance to the ride.
All this vexed me enough to inspire my highest-ever score (I think).
Emily and Louise accepted defeat graciously. Emily and I walked over to Philharmagic now as Louise needed to evacuate and it was wise to be as far away from that as possible. We grabbed a water on the way and booked another LL, this time for Pirates for 12.15 and then sat on a bench waiting for Louise.
I like to get a lot of stuff done whenever we are in a park, but it is also nice to sit and people-watch at times. Just for a few minutes though and then we have to get back to it!
After Philharmagic it was parade time so we walked over to the Diamond Horseshoe to watch from there. I went live on Facebook again, so you can watch the parade if you wish.
We made the short trip across to Pirates next. You've probably already spotted that today has been a much easier and more pleasant experience than last January? The post-pandemic calm-down seems to be happening and whilst there are still lots of things "not quite right" yet, the signs of a return to what we all know and love are growing. One of those little things happened now.
As we were approaching the ride Emily got a tap on the shoulder and Captain Jack was there, asking her what "that thing in her nose was" (she has a piercing). Despite Emily going as red as a beetroot, this brief interaction and thirty-second chat were lovely. It just couldn't happen last year (in my view) as things were so busy and of course, characters being out and about at that time wasn't a thing. It put a smile on all our faces and was a really encouraging sign that the future may get close to the past.
Once we had ridden, getting much wetter than I can ever remember due to those canon shots, food was next on the agenda. I mobile ordered from Caseys as we walked in that direction and waited about five minutes for it to be ready once we got there. Louise went off to search for a table and found one over by the Plaza across the street.
Me – Corn Dog Nuggets
Louise – Chill Cheese Dog
Emily – Plant-based slaw dog
It was all very tasty. Over to Tomorrowland now and Laugh Floor. In between the LL bookings, we were able to mop up the show-type stuff, which typically were walk-ins, so this was working pretty well, with the exception that we shouldn't have to pay extra for Genie+.
Emily considered Laugh Floor a success as once again we managed to avoid getting on camera.
Onto the People Mover now and the longest queue of our day at 20 minutes.
Everyone was grateful for the sit-down.
As ever I tried to capture the latest shots of Tron.
It feels like this has been in construction for about a decade now.
Of course, we now have an opening date which is awesome.
Continuing our tour of stuff that usually has no wait, we did Carousel Of Progress next and experienced a first. Due to technical issues, we had to watch the first scene twice.
See….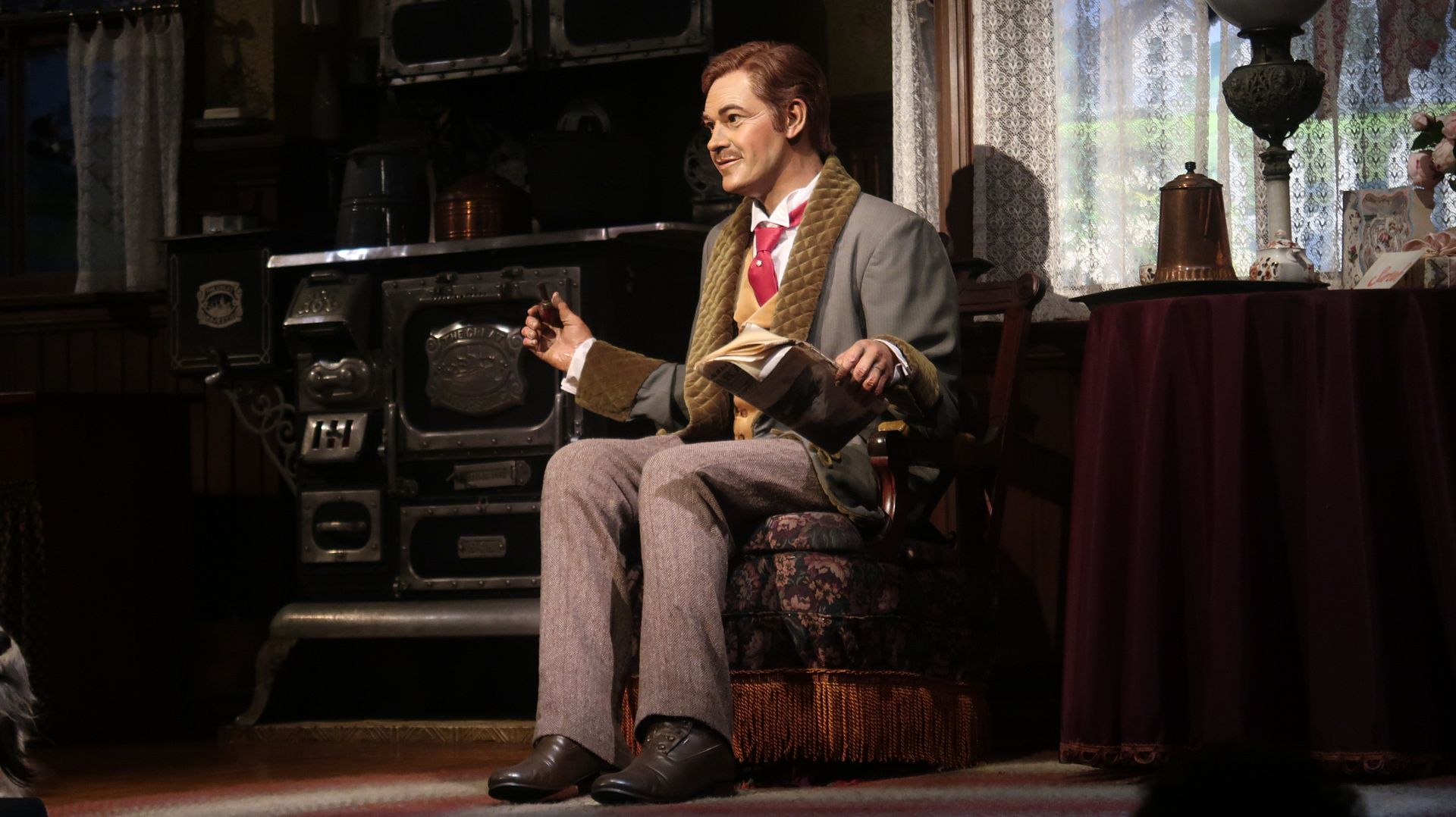 It extended the resting for us and I think I almost fell asleep at one point. I was able to do so as we had walked all the way to the end of the row, despite the attraction not being full and therefore I was at peace.
Earlier I had booked Space Mountain for 2.50 so Emily and I went on that next. Louise declined due to the rides increasing roughness or maybe that's our increasing age.
I was convinced the seats had changed recently?
Regardless, the need to clench for the entire ride has not changed as you can see. I'm not sure what the chap behind me is sat on, but it seems I had a lucky escape.
At this point, we were done and headed for the exit around 3.15. We browsed some shops on Main Street and took the monorail over to the Poly.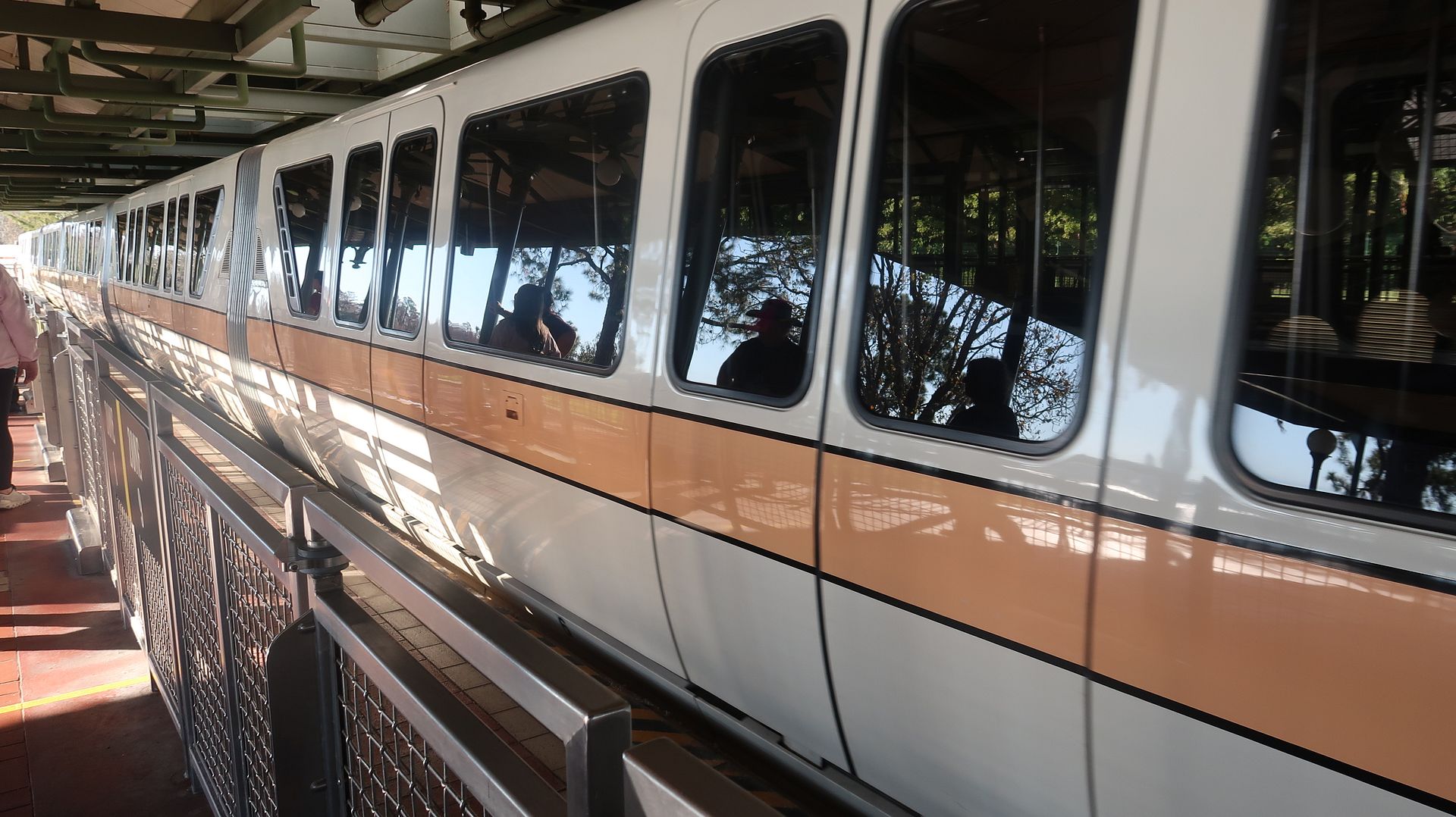 We were hoping to get a drink and sit down for a bit. We tried Trader Sams's but there was a three-hour wait to get in, so instead, we went outside onto the patio area and ordered some drinks. I was on the mocktails but the ladies had a number of harder options.
This was our view.
My pretend cocktail
and real ones
I think we had three, maybe four rounds of drinks. Perhaps it's because I don't drink much at home and I am out of touch but I do find the cost of drinking in WDW especially a bit crazy. Those rounds cost us $170!! We were to experience similar on the cruise later, but I'll moan more about that at the relevant time.
We got the monorail and looped all the way around to the TTC.
After a cocktail-induced restroom for Louise, we walked out to the car. We had a reservation at The Cheesecake Factory for dinner and those Nachos were calling. We were actually an hour early for our reservation but bless them they seated us within five minutes. We were served by the excellent Jo and started with the bread service and more drinks.
This was my lemonade.
We ordered two lots of Nachos, one with meat and one without between the three of us.
More cocktails….
and absolutely no room for dessert. We were ashamed of the lost opportunity to have cheesecake. The bill, including wine, cocktails and food was $110 including a good tip. We drove home, full and sleepy. I don't know how the other dwarves got home though.
We were in bed by 8.30! It had been a long day.
Till the next time……