Sunday 22nd January
To be nothing if not consistent I was awake by 7am. This Disney-imposed alarm clock to book stuff was training my body nicely.
Louise had not slept at all and was not feeling fit to be up and out in a theme park anytime soon. Emily and I got ready and left her to recover some sleep and kitted out with Genie+ and a LL reservation for Splash Mountain at 1.05 on its final day, we set off.
We arrived and parked up in Simba 116 by 9am and used the car locator thing in the app as we had for most of the trip. A handy tool for tools who can't remember where they parked.
The park looked busy but we saw that Big Thunder was only showing a 25-minute wait. Despite not believing that at all, we headed there anyway. Once we got close to Frontierland it quickly became clear what sort of day this would be in this neck of the park.
We fought our way through that and round to somewhere close to the entrance to Big Thunder and its 25-minute wait. Yeah….
Amazingly, we were on the ride in about half an hour.
Having obeyed the rule that a ride must be ridden upon entering the park before eating is allowed, we now sought out some food. Again, options were very limited and we ended up back at Sleepy Hollow.
I mobile ordered and we loitered in the vicinity. Having done that for a bit I looked at the app and realised I hadn't clicked the "I'm Here" button, so I did that now like the idiot I am. After another ten-minute wait, our food was ready and then there was a ten-minute wait at the pick-up window. Emily had pounced on a table as one became free and I joined her now with the food.
As I got there there was a kerfuffle going on at the next table. Once it had all calmed down Emily filled me in. It seems that some weird lady, bedecked in her Disney nutcase outfit had walked into the seating area and declared loudly that due to medical conditions, she had to sit down so who could she join. Some helpful, and now regretful family had obliged. As she sat there an ECV user at the next table had reversed somewhere close to her and this lady had then kicked off as if someone had firebombed her house.
She was yelling at the whole party about irresponsible ECV users and how she could have been killed etc. I caught the tale end of the row and she was just bloody nasty and horrible. She stormed off much to the relief of the poor family who had accommodated her and the young girl in the ECV was inconsolable. Some people are just horrible.
We started to eat as all this played out and therefore, alas, the camera was too late.
I had made a LL for Buzz despite the distractions going on around me and we headed there now. My tactic for today was to simply book whichever Genie+ LL was available soonest and see how that went. It was BUSY today.
The LL queue for Buzz was not short but we were soon on.
In front of us were a couple of young parents with four kids. It looked like they were under attack, with kids hanging around necks, being dragged along the floor and screaming and crying. I felt sorry for them and grateful it wasn't me in equal measure.
I managed to secure my highest-ever score but have no idea how.
Emily could not compete on this occasion.
As we exited I booked a LL for Ariel and walked in that direction. We browsed a shop or two until our slot rolled around.
Once our slot opened we were on within minutes. I am far too mature to be making any jokes about Ariel's slot opening up…..that would just be in poor taste.
The 12 o'clock parade had started minutes ago over in Frontierland so we walked down through the castle, to catch it around the hub…
You can see from the blur how fast we were travelling as I took that photo. With just Emily and I, we were in full-on theme park commando mode.
Whoosh…
We grabbed a spot up the side of the castle on one of the ramps.
As we waited for the parade to arrive we watched with amusement the endless number of Instagrammers posing for photos in front of the castle. Typically a young, pretty girl getting their less attractive friends to capture their "natural" poses in front of the castle.
The view from here is great, especially if your camera has a decent zoom.
Ariel appreciates a good fork…..
Peter was just showing off….
I didn't know Harry Styles was a cast member….
As Mickey and Minnie passed us we escaped back up through the castle and headed for the LL I had booked for It's A Small World. On the way, Louise messaged to say that she had just arrived on the bus and would be with us shortly.
After some recent social media hoohah about the boats on this ride we noted they were all scrubbed and shiny.
After meeting Louise, with perfect timing we headed for our LL for Splash and one last ride. The LL queue took about 30 minutes and it will not shock you to learn that we were all very thoughtful and a little upset about my Dad, with whom we had ridden this thing countless times. It being this ride's last day, for some reason, brought back many memories and feelings.
The standby queue was horrific.
I went live on Facebook to share our last journey on this, Splash's last day. Luckily we secured the front row for a clear view.
Emily cried all the way around and it took some effort not to join her.
Lunch now and we used the "what is closest" rule to select our eatery, and we entered Pecos Bill, which was a surprise to him.
Emily had previously enjoyed the best Impossible burger ever here on a previous trip so of course Disney had removed it from the menu now. She had to settle for just Chips and dip whilst Louise and I had nachos.
After enjoying those we walked down to Philharmagic which had no wait time posted.
After the show ended, it was coming up 3pm and time for the parade….again. We returned to the same spot as earlier, this time with Louise in tow.
More influencer gold was happening.
What do you mean you've had enough parade photos already???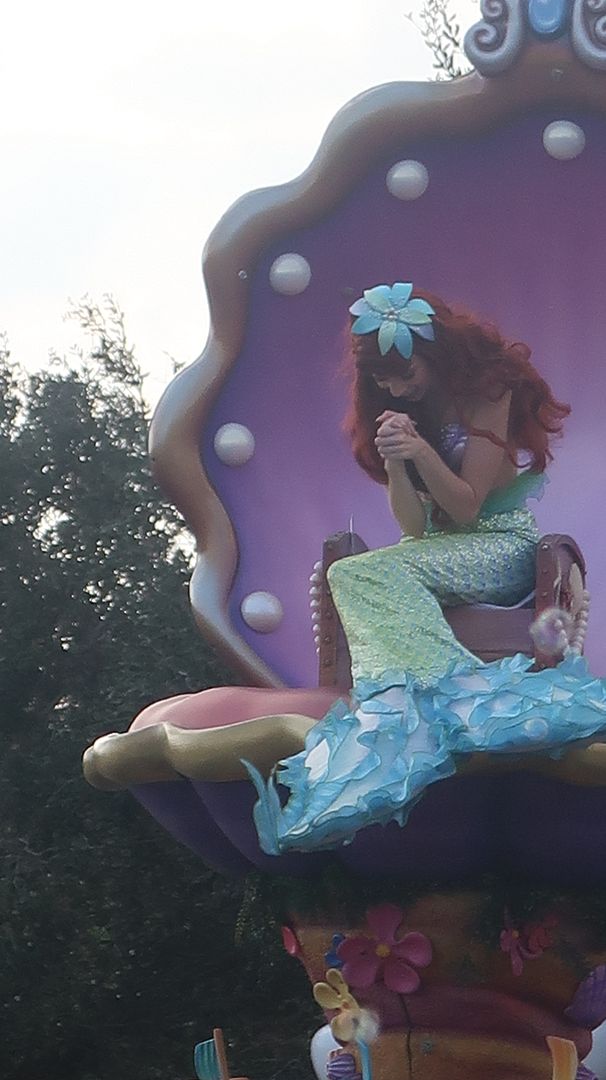 Ariel sees me in the crowd and hopes I am single….
But then spots my wedding ring and her hopes are dashed….or maybe it was all just an act…
Alright love, don't over do it.
Amidst all the influencer nonsense, one little chap there deserved to have his photo taken as much as he liked….
Again, once the last float had floated by, we escaped through the castle.
As it had just re-opened, we, well I, decided we would ride the train. We went to the station near The Barnstomeer but restrooms were required by weaker members of the group so I had a wander into the Big Top shop thing. It is a shadow of its former self and half-empty. This used to be a great place to see and buy a large range of merch.
The queue for the train was long and we had to wait for the second one before we could get on.
We did a full loop of the park plus one stop, getting off at Main Street.
We took a minute and watched the flag lowering ceremony.
Whilst enjoying these.
Our next LL was for Haunted Mansion at 6.20 so that was our next destination. One the way, to kill a little time until our slot rolled around we rode the Steamboat for the first time in about 20 years.
For anyone interested, I dug out the video of some of that 2001 ride.
Onto Haunted Mansion and a ten-minute wait for our LL booking.
There are a lot of contenders for "worst photo Craig ever took" but this will be top 5.
Maybe 6 now…
OK, 7….
Louise didn't fancy Space Mountain so Emily and I went on whilst Louise wandered down to Main Street. It gets rougher every time, which seems to correspond with me getting older every time I ride.
We walked down to meet Louise on Main Street to say our goodbyes for this trip. We never know when we'll be back….
Fighting back a few more tears we made our way out. It was a quiet walk to the resort monorail to start our journey over to O'hana.
Emily had stopped crying by the time we got there.
We checked in and were seated after a few minutes. We didn't get a great table but food was imminent so that was all that mattered.
The food was certainly plentiful….
We ate far too much of it and at one point the fireworks happened at Magic Kingdom and the music was piped in. Our table location made it hard to appreciate that.
Mainly as Louise ordered a bottle of wine at a silly price, the bill was $320. Far too much for a meal for three people, and despite the volume of food I wouldn't say we were blown away by it.
We paid, left and took the long way around the monorail all the way back to the TTC. A tram was waiting for us which was considerate and we found the car and undertook the sad drive back to the resort for the final time.
Louise and Emily went straight to the room leaving me to get some water from the shop. I got to the room to find them in the corridor as their magic bands wouldn't open the door!
Packing would be left until the morning as bed was badly needed.
Till the next time……