Wednesday 18th January
We were awake at 7am, excited to be at Castaway Cay today. Look, there's a bit of it….
Wanting to avoid the scrum situation at Marceline Market and still not aware that some places did a more civilised sit-down breakfast, we had ordered room service last night. It was Continental in nature and absolutely fine. We wanted to be up, ready and poised to get off the boat as soon as possible so it worked well.
The view promised much for the day ahead.
We dressed and made our way to what we hoped was the right place to disembark and struck very lucky. As we stumbled out of the lift, still not sure where to go we arrived with perfect timing at the start of what looked like a long line back up the stairs that most folks had used to get there. After a five-minute wait we were allowed to disembark and we started our long walk to the beach.
We had decided to head for the adults-only beach. Look, I love kids…..that are related to me.
Being one of the first off the ship, my inner theme park commando wanted to set a blistering pace to stay ahead of the hordes of folks behind us, but due to Louise's inability to sprint for a few miles at a time, we had to let some folks past us. It hurt.
We walked for ten minutes or so and arrived at the main area of the island. We asked a cast member where the adult beach was (we knew it was still a good distance away) and opted to take the tram the rest of the way. This took us there down the airstrip and to the adult beach.
We found a spot.
As we readied ourselves for a day of not much, I quickly discovered that Louise (you had one job) Williams had failed to put the sun cream into Ryan. I wandered off hoping to find a shop where some could be acquired. There was such a place but it meant getting back on the bloody tram and going back to the main area of the island. I was the only person travelling that way at this time of day, so I undertook a weird lonely tram ride. As I arrived back at the shops, I rolled from a still-moving tram, raced to the shop and hoped to get the thing bought and get back on the same tram before it set off again.
I was thwarted by some folks buying bloody souvenirs and deploying about 17 different discounts which meant the CM had to press more buttons than Rick Wakeman (ask your Dad) to process the sale. I watched the tram set off for where I wanted to go just as I took my receipt for the one item I had purchased.
I trudged back to the tram stop and settled in for my day ruining ten minute wait for the tram to return.
Oblivious to my struggles, as I returned Louise had done the ridiculous thing of starting a conversation with the family next to us. Appalled, Emily and I did our best to not get involved.
This family, from deep in some Deliverance-style Southern backwater, were telling Louise about how they went out to shoot things regularly and how we should try eating frogs and Gator tails. Hey, I eat Doughnut Burgers so who am I to judge?
We soaked up just being here all morning.
Until we were hungry enough to go and eat lunch. That was about one minute past 12.
It was a BBQ affair at the place just off the beach (no need to tram anywhere thankfully).
I finished with a cookie worthy of its own photo.
After lunch, on the way back to our beds we stopped at the bar for a drink.
I forget what the ladies had but I panic ordered an Aperol Spritz, which to my unrefined palette tasted like medicine.
Emily made a more successful order.
As we arrived back at our beds our Louisiana family next door had moved on, probably to shoot something, so we just lapped up the sun a little more.
Thinking I couldn't come all this way and not venture into the water, I waded out a long way into the sea. I couldn't walk far enough to get out of my depth. The water is crystal clear, and of course in January, chilly. I spotted a few Starfish, thankfully none of them chocolate. I returned to my sunbed and waited for the twins to descend out of my body cavity.
As the afternoon went on, the beach emptied, and that delightful late afternoon "golden hour" was just lovely and peaceful.
Louise and Emily ventured into the water for a little paddle before soaking up the last few minutes of sun. We had to be back on board by 4.45 so got the tram around 4.30.
It is a long old trek all the way back to the ship, with a change of tram halfway.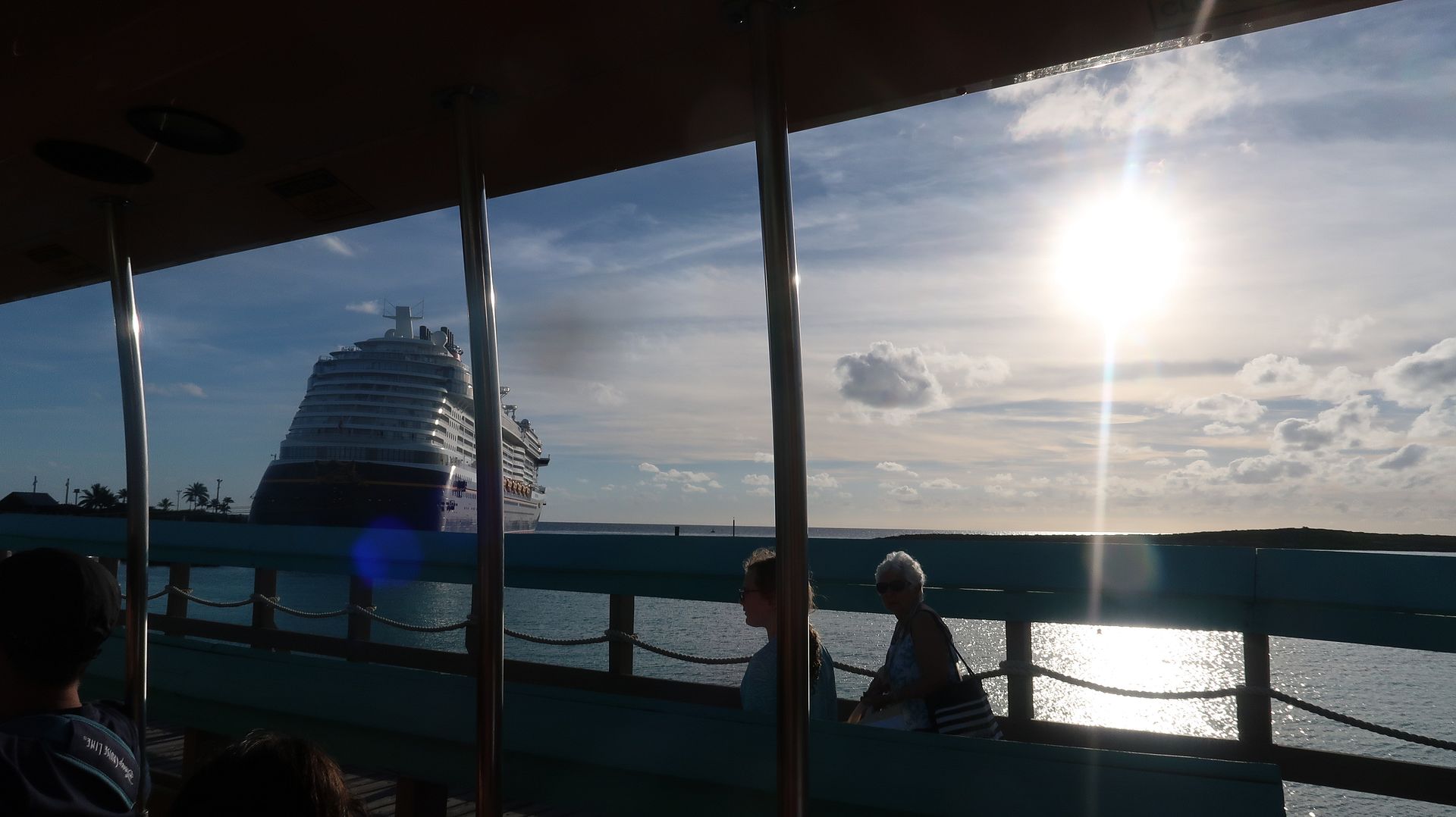 There was a security check as we re-boarded which didn't take as long as waiting for the family in front to dig out their cabin keys for the crew to scan from the very bottom of the huge beach bag they had with them. As Scar says, be prepared!!
We went straight up to deck 11 and Marceline Market for a soft drink, with a nice view.
Back at the room we all showered and left again at 7.15 after a few photos of the view.
We stopped at the Star Wars bar (probably not its real name) for a drink.
The drinks menu was on some George Lucas style iPad.
The drinks were weird. My beer was a fruity one.
Louise's wine was pretty standard other than the man sat in it.
The names and contents of Emily and Louise's cocktails were really something I should have written the names of in my notes!
It was an unusual and pretty cool experience, but a bit loud, so like some noise-weary pensioners we moved next door to Nightingales.
We ordered our "usuals" and listened to some more piano playing.
With those finished, we were back in Arendelle tonight for dinner so we headed over there.
I ordered –
Crab Cakes, Jerk Chicken and Cheesecake.
Here is the Chicken.
Louise had –
Samosa, Jerk Chicken and Banana Bread Pudding…
Emily –
Samosa, Stir Fry and Banana Bread Pudding
All of the food was good, but we felt the desserts were a little tasteless. We of course still finished them all.
Tonight was Pirate's night, for which we had not dressed up, but it was nice to see many had, including all the servers. After dinner, we went to Deck 14 to watch the Pirate Band perform at 10.15 and then catch the fireworks.
It got quite busy of course, so once that was over we hung around and watched the dance party for a bit until the decks had cleared a little.
We went back to Nightingales again for a nightcap and then returned to our cabin to meet my personal favourite of the cruise…
A lovely day and Castaway Cay is incredible.
Till the next time…..