Day seven already, and despite the title of this trip report and the little bit of enforced last-minute plan changing, you may wonder, what's with all this Dorian drama? Indeed.
During the last two days, the eleventy billion hours of TV coverage had told us that the long hoped for "right turn" had happened, and Dorian was off up the coast, with Floridian landfall now looking unlikely. Those on the coast would be affected but it seemed we would be missing the worst of it.
This had not stopped Disney going all health and safety on us and closing their parks at 2pm today. I was awake at 6am, looking for Dorian updates and for the latest thoughts from Denis Phillips on Facebook. He is the "go-to" meteorolo…….meeterol……met….weatherman and his updates had given a lot of clarity and calm in what might otherwise have been a stressful few days.
Like the mature rational grown-up I am, I was a little upset that this major weather event which had already devastated several islands in its wake and might yet still do similar to the coast of Florida had denied us of some park touring time, I went downstairs to the TV to see how bad today's weather might actually be, feeling suitably proud of my selfish attitude. These latest weather reports would determine whether we ventured to a park until 2pm or not.
I had by this stage got about 27 different weather apps on my phone and I spent an overly long amount of time looking at each of those and watching several different weather folks, oddly all on the same channel, predict what would happen. It was amazing that one channel could employ thirty-six weather experts and have them all on at the same time.
All of the above were predicting some quite nasty rain this morning and after much deliberating, I decided to call it, and the parks were off for today. It would not be fun in torrential rain. Instead, we decided to go out for breakfast. If we can't ride, we'll eat.
I noted that I was particularly hungry this morning, which would be good news for whichever breakfast place we stumbled upon first. I did notice, with some concern, that as we got into the car, there was blistering sunshine and nothing but blue skies, but this, of course, would all change as predicted by the great and good of the TV. Right?
As we met with the 192 we spotted a Perkins and after a mildly dangerous and somewhat illegal U-Turn, we abandoned the van in the parking lot and made our way inside. Again, as I cast my eyes upwards, there was still no sign of the evil weather coming our way.
We were seated immediately and ordered coffees and juices. I was becoming a little obsessed with the weather at this point, wondering why outside did not look like this…..
I had blueberry pancakes….
Emily and Tom had some form of Eggs Benedict (I did write it down but I can't read my own writing!)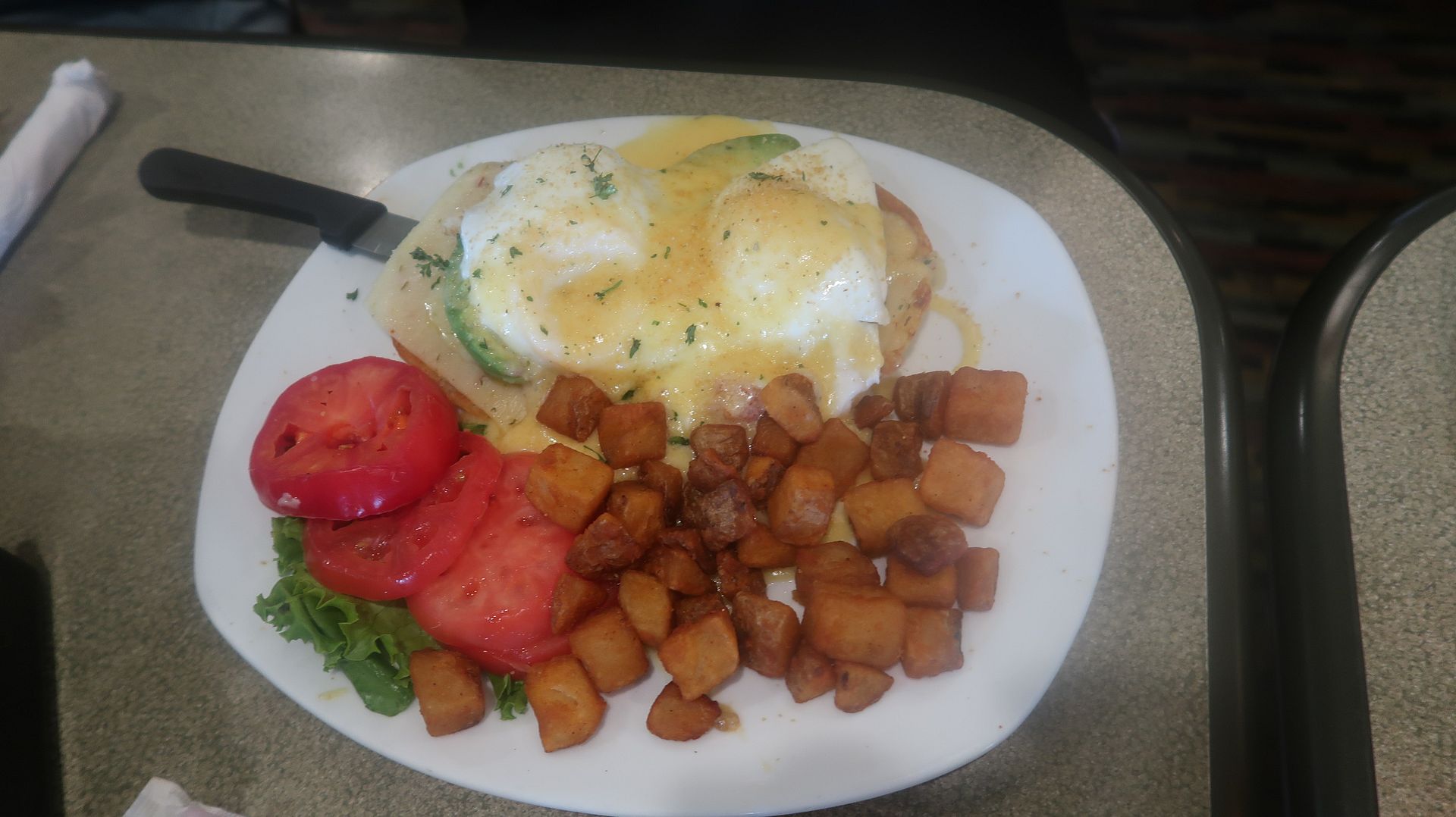 Louise had this…
and Rebecca had the thing you can see at the end of the table which I have in my notes as "Not sure but something big". It's tricky keeping track of what everyone orders with a larger party!
The food improved my mood a little. Outside still looked like a typical Florida day and not mild Armageddon and I was developing a large sulk about it. All I could think was we were wasting the day and that I had made the wrong call to scrap our theme park plans. Its time likes these that the responsibility of being "the planner" lies heavy.
I paid the $85 bill and as it was still sunny we decided to go for it and head for the planned park for the day, Hollywood Studios. At this point, Lousie made that call as she couldn't take another second of my man baby pouting. I doubt I have driven to a theme park more quickly in all these years. We parked in Mickey 312, trammed and had our sacks poked with a stick.
See, no hurricane!
It seemed that many other people had made the same wrong call that I did and had abandoned their plans.
Seeing such low crowd levels, now would be the time to head for the newly opened Galaxy's Edge. Join us, as we enter for the first time….
It was clear that most of the people who had made it into the park today were also headed for this area…..
but it was still fairly light in terms of crowds.
It's always a special time experiencing something for the first time in a park, and luckily when that's a theme park you don't get arrested. That's especially true with something as significant as this. We soaked up the incredible theming for a while, wandered about and got our bearings.
Like a literal tractor beam, we were pulled to the Falcon and were all blown away by the detail, size and scale of the thing….
Did I mention that the theming was impressive?
Full of excitement, anticipation and pancakes, most of us joined the 70-minute queue for Smuggler's Run. Louise volunteered to stay with Freddie.
Emily was overjoyed to be wearing her spirit jersey, selected to protect her from the air con chills of our breakfast restaurant and not to sweat 12 pounds off her in a raging hot theme park. Another victim of my poor decision making. We all must suffer for the cause from time to time. Tom was bravely sporting his unusual hairy neck.
It didn't feel like over an hour of waiting to be honest. We were, of course, taking in all the new stuff and admiring what an incredible job had been done.
You will have to excuse the large numbers of photos here, I was a little over-excited.
You can tell it's a new ride when you feel the need to take photos of the queue.
Even I'm not sure why I took this one….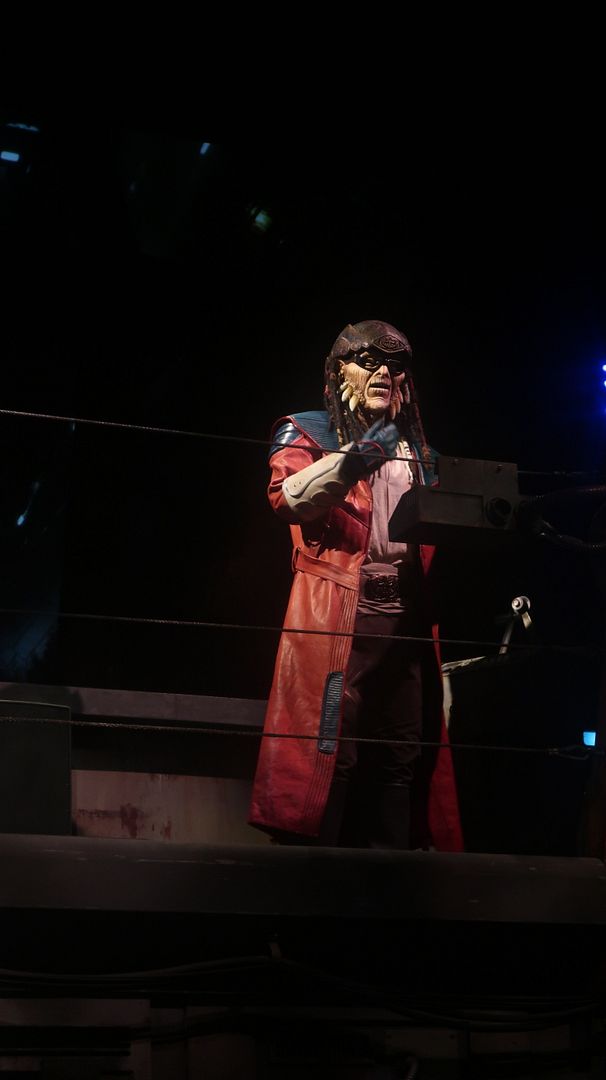 Once you get into the holding area just before you ride, the theming is eerily identical to the scenes from the films. It's excellent.
We were allocated our roles and were then just seconds away from riding. I was a little giddy.
The ride itself flashed by in an instant and I cannot remember too much about it. There is so much going on that it will take many more rides before it all sinks in. It is very enjoyable, incredibly well put together and a stunning addition to the park.
I'm sure the last hour had seemed a little longer for Louise and Freddie so we hurried out to meet them now. It was still gloriously hot, dry and incredibly un-hurricane like. We were about ten minutes away from our reservation at Oga's Cantina. We'd booked this on the M60 some weeks ago, after seeing reservations being released, with little to no clue as to what it was. We were about to find out.
There was a queue and the cast members would wander up and down it shouting out names when they were ready to take you in. We didn't wait long.
The theming is great. We did wonder why they hadn't made it much more like the actual Cantina from the film but I'm sure there is good (legal) reason. We were shown to our seats which were shared with two other couples.
We studied the menu…
I made no attempt to write down what we had but they looked like this.
This was mine. I cannot say that I knew what was coming when I ordered it, but it was an experience.
I also can't say that any of the drinks we had were the nicest of the trip, but of course, this was just about experiencing the new stuff in Galaxy's Edge and we took it for what it was.
The place was rammed and noisy and not the best place for Freddie so we didn't stay too long. It was 1.30 now, with the park due to close at 2pm. We noticed that Slinky Dog was showing a thirty-minute wait, so we decided to give that a go.
We set up baby swap, with Louise, Emily and I planning to ride first. Tom and Rebecca took Freddie to ride the Saucers whilst they waited, just too late to benefit from Louise deciding not to ride and instead soak up the last few minutes of sun before Dorian ended the world. Emily and I joined the standby queue.
Spookily as we came to the point where the standby and FastPass queues meet, Rebecca and Tom were stood waiting to merge and joined us. This accidental situation, got me thinking of a slight "hack" here. If you have a large party and one or two people willing to sacrifice themselves you could do the following.
Set up baby swap and say that one or two people are riding first and they join the standby. Whether they queue and ride or not is up to them. This immediately gives the rest of the party a FastPass, intended to be used as the first riders return, but there is nothing to stop those immediately joining the FastPass queue. It's a stretch to call it a hack, but it kept me occupied thinking about it during the queue. This was a welcome distraction from the army of annoying kids in front us who did nothing but fight each other, climb on the rails and generally be a pain in the arse. Mind you, if you call your kids Hunter what do you expect?
So, in the end, we all rode together on our first ever Slinky as if it was written in the stars after all our failed attempts to get a bloody FastPass for it. The ride is a belter. Just fast enough to entertain the adults and not scary enough to terrify the kids.
The park was closing now. Weirdly the weather was still great and there seemed to be no reason to do so. With that in mind, we decided to go to Disney Springs which had no such plans to close until much later in the day. It was a twenty-minute drive and we parked in the Lime garage.
We walked for too long trying to find somewhere we could sit and have a drink. We ended up outside Splitsville on some high stools and a table. Does anybody else have real trouble making sense of the geography of the place now? My brain just can not reconcile the new layout with the old.
Whilst we rested and drank, a sudden appearance of some Dorian inspired wind blew all the menus off the table, knocking Louise's red wine all over Emily's bright white trainers. Being very new and very expensive she was rightly upset but the waitress was brilliant. Not only did the affected drinks get replaced, she returned with some club soda and cloths and we managed to clean any trace of red wine off Emily's shoes and laces.
With that trauma behind us, we wandered off to the shops. Freddie added to his essential plastic tat collection….
For obvious reasons, the big balloon thing wasn't in operation.
On our travels, Rebecca got some Up! Mickey Ears for MNSSHP. Before long, breakfast seemed a long time ago and we needed food. With it just being "round the corner" we decided on Olive Garden and we were there in a few minutes.
We were seated immediately and soon had the infamous salad and breadsticks along with our drinks.
I had some non-alcoholic berry thing. It was nice and more importantly not diet coke.
Tom naturally had a milkshake/iced coffee thing and at this point confessed that he'd been hungry for about four hours!
That used to be my plate of salad. We ordered…..
Emily – Five Cheese Ziti
Me – Steak & Alfredo
Louise and Rebecca had the lasagne.
Emily has turned vegetarian since our last trip and this meal was her single greatest sacrifice to date. Olive Garden lasagne was her most favourite meal on the planet so to watch two others eat it was painful!
Tom had the Tour of Italy.
Having skipped lunch (did you notice?) I had Tiramisu.
Tom had a huge chocolate lasagne cake. He was still so hungry that they could have brought him a urinal cake and he would have eaten it!
We paid the $180 including decent tip and made our way to the car. It was getting a bit breezy now and there was to be a curfew starting at 11pm tonight with worse weather to come. We made our now customary stop at CVS on the way home for stuff we apparently couldn't live without. As we pulled out of the car park using an exit I hadn't previously used, there may have been a few moments of us being on entirely the wrong carriageway, but I soon restored order with no harm done, save for some colourful words from the passenger seat.
We all watched some TV and relaxed in the villa. As I went to bed I could hear the wind really getting up outside and some pretty heavy rain. Apparently, it was quite a wild night, and the weather was pretty rough too (BOOM!) but I slept through all of that, missing any sign of Dorian altogether! The previous six days of 24/7 TV coverage seemed all the more worthwhile now.
I know these things can be devastating and deadly, and this one tragically was elsewhere, so we were thankful it didn't cause us any issues other than a few lost hours at Hollywood Studios. Touching wood and anything else that may do the same job, we have in all our touring years managed to avoid any real hurricane impact despite almost always travelling in peak hurricane season. Long may that continue. And yes, I said touching wood…..fnarr.
Till the next time…….