One of the greatest challenges in documenting one of these trips is the first day. Here I sit, still a bit jet lagged, the horrors of work on my mind, trying desperately to re-capture the excitement and anticipation I can see in the photos from our travel day. The two moods could not be more removed from each other.
Our travel day starts early these days. With Rebecca not at home we have to do the door photos the night before. It does warm my heart a little that it is the girls asking days before when and how we are all getting together to get them done. It is not just my sad tradition, it is theirs too.
This report starts even earlier than that this time. You find me at my desk on my final afternoon. I am tolerating the back to back meetings that have somehow invaded my diary and counting down to the the time I can leave without being formally disciplined when a text arrived on my phone. Oh good, I can now check in for our flights.
I follow the link and start clicking stuff. Now, my track record with online check in is not good for some reason. It never seems to go smoothly. Anyway, I am moving through the various pages with my natural silky grace and one more click will see us all sorted.
An error appears. That's odd. I do not make mistakes, so surely this pesky website is playing up. Looking in more detail the error relates to Emily and it tells me to check her status on the ESTA website.
The faint stirrings of nausea appear deep within my gut. I do as advised. Luckily, I have a photo of her passport stored on my laptop so I have all I need to confirm that her ESTA is fine. My hands are shaking a little as I type in her details, mainly as the new red warning message across the top of the ESTA site reminds me that it can take 72 hours to get approval.
So, it turns out she has no valid ESTA. My mind wildly searches for a reason for this, but the only one it can come up with is that I am an absolute idiot. I remember distinctly sitting at my laptop many weeks ago getting everyone's ESTA either renewed or checked. I had a stack of passports and I worked through each one methodically.
Anyway, finding someone else to blame for this was a job for later. Right now, I had to apply and quickly. With my hands shaking a little more, I somehow got the application done as quickly as possible. As expected, Authorization (sic) was pending. I sat refreshing the page for a bit, but nothing changed.
At this point I called Louise to confess my incompetence. Next I called Emily to confess the same and without saying it out loud, letting her know that she may not be travelling with us. She took it calmly and in her stride which just about stopped me from jumping from the window ledge I was stood on. An hour passed, and panic was setting in and I started googling stuff about recent time frames for ESTA approval. Nothing gave me any comfort, and despite knowing it was very unlikely to make a difference I called the number on the ESTA site. I sat on hold for twenty minutes whilst still refreshing the page constantly.
Whilst doing that I even checked out flight times over the coming days just in case the worst happened and she wouldn't be able to fly with us.
To draw a veil over the horrors of this afternoon, at 4.35pm, a desperate push of F5 refreshed the ESTA site one more time and, thankfully, the status changed to Authorized. I haven't felt relief like it since her conception.
Now, you will know that I am a dedicated planner and have been until this point a fastidious, organised type. I could never imagine that I would be incompetent enough to let this happen. Clearly I am that incompetent, as I will prove to you in other mistakes I will document here over the coming weeks. Senility is arriving early. But do please take my failings as a warning to check and double check everything one last time. I can ony think that Emily's passport was stored in her room and when I gathered them all together I couldn't count properly and didn't do hers. As I said, incompetent.
So, with that over with, and I am sweating slightly again just recounting it, we shall proceed with those traditional door photos.
If I had been sensible I may have got the camera out before now to remind myself how it works. Like most of you, my phone is my camera at every other time than a WDW trip so getting to grips with my very nice Canon G7X takes a little time. All of that is an excuse for these being a bit blurry.
They got a bit better as we went along….
Well some did….
Now would be a good time to warn you. There are going to be a lot of photos of Freddie in this trip report. It's natural of course but it's best I tell you now.
Now we get into the different configurations….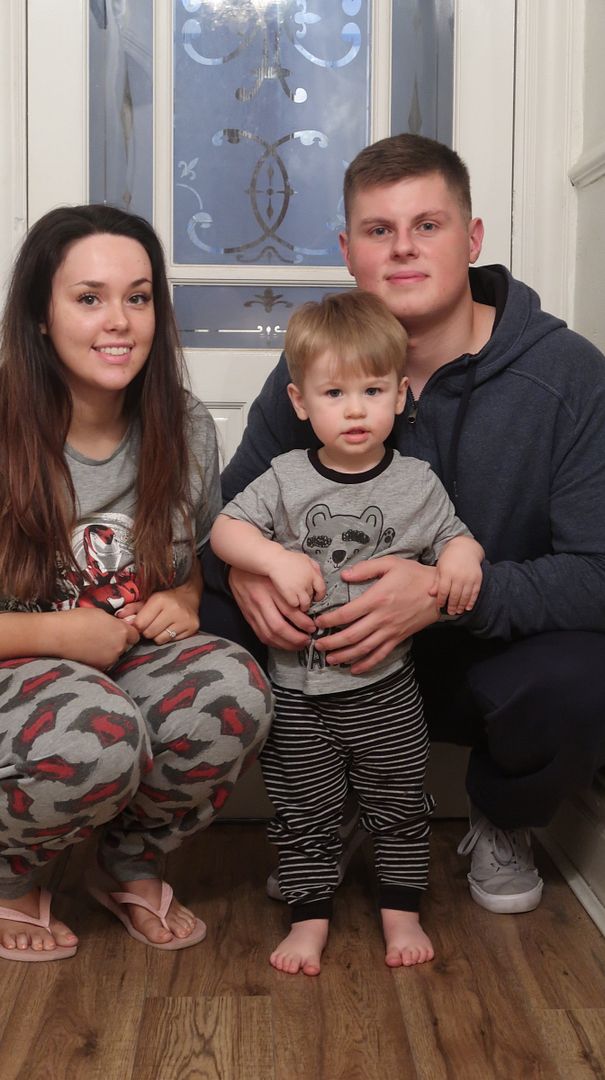 and a more traditional door photo….
So with that done, we ate our takeaway, finished the packing and all went to bed.
Online check in still wouldn't work for Emily, so that was one last minor issue we would need to address at the airport. A small price to pay for my stupidity. I had felt panic stricken and on edge all evening to be honest, convinced I had made some other error and it was hard to relax into the holiday feeling.
That no doubt contributed to me being awake from 3am. I rose at 7am for the traditional three S's, tidied up a bit, put the bins out and got the final bits into the cases and wrestled them downstairs. The taxi arrived early at 8.20. We were ready and after a tearful goodbye to the dogs we loaded ourselves and the cases into the van, with me still questioning what I had forgotten.
We collected Rebecca, Tom and Freddie five minutes later and made our way slowly to the airport with me doing the "you been busy?" thing with the driver as I had to sit up front.
We arrived at 9.20 and made our way to desks 14-24. We were approached by a chap offering us an upgrade. Alas, it was not a free one, and another £800 for the move to Premium Economy could not be justified, especially as I had already, unbeknownst to the rest of the party, paid for extra leg room seats in economy.
Emily's check in was trouble free and it was a nice feeling to have her boarding pass in my hands.
Security was dreadful. As we had a pram with us we were directed to the Assistance Lane. There wasn't any assistance that I noticed, but there was a whole heap of waiting. It wasn't helped by the family in front of us having what appeared to the their weekly food shop in their hand luggage. After about half an hour we finally got through and feeling hangry, we moved through into the departure lounge. Our direct route to food was only interrupted as several of the females needed the rest room.
Freddie made good use of the time.
A bee line was made for Giraffe, our usual Terminal 1 eatery and there was no wait to be seated. The choosing of food was a serious business.
We had…..
Me and Tom – Ultimate Breakfast Sandwich
Louise – (A quite poor) Eggs Benedict
Emily – Veggie Breakfast Sandwich
I failed to capture this but it looked like the sandwich Tom and I had.
Rebecca – Some Mexican themed breakfast thing
Freddie – A generic kid's breakfast
Coffee and juice for all and it came to £90 including a tip.
Having only just waited outside a restroom mere moments ago, we had to do so again as my daughters laid some cable. With that done, we wandered some shops, I bought a book from Smiths and then we found ourselves a seat to wait for the gate to open. I think even I had a wee at this point. I am only human.
As I did, I wondered, as I often do, what it is that makes men need to dredge up a pint of phlegm as they take a leak at the urinal. The two functions are not connected. Why do I have to have a wee whilst listening to my fellow urinators pulling up bodily fluids from their toes before expectorating it into the piss pot. Come on fellas, sort it out!
We explored the totally authentic UK/Manchester themed area of duty free too.
Yet more restrooming was done as we made our way to gate 27. As ever, there was a long queue which we ignored and just waited until most folks had got on. Inexplicably, Rebecca and Louise needed to restroom again. Is there a doctor in the house? They took just long enough to make me a little worried that the gate would close with us still on UK soil and some heated messages were exchanged before they reappeared.
We boarded and settled in for the flight which was announced as taking nine hours.
Our extra leg room was welcome and looked like this. You will see that I denounced the usual bright white trainers, but fear not, the tradition was not abandoned. More on that later.
As ever, we did not take off at the intended time, instead we left the UK at 3.07, some twenty minutes behind schedule. Drinks and entertainment upgrades were purchased. These not being free is the main difference between Thomas Cook and Virgin in my mind. The available film choice was pretty poor to be honest with few that hadn't been out for an age. I found Vice and watched that with a few breaks for entertaining Freddie and food, which was chicken pasta or beef stroganof.
At some point, clearly Freddie got his hands on the camera…..
Only the appearance of the ice cream got him back settled in his seat and watching something again.
Freddie was great to be fair on what felt like a very long flight. It was made to feel even longer and more arduous as the woman sat behind Rebecca coughed for 8 hours and 50 minutes of the nine, without once covering her mouth. It was a nasty, "I've worked down a coal mine for thirty years" lung wrenching, phlegm factory of a cough that promised to infect most of the plane with whatever she had.
To prove that fact, I developed a runny nose almost immediately and spent a lot of the flight blowing my conk in the toilets, which isn't a euphemism.
Freddie was tired but wouldn't sleep so I took him for a walk around the cabin once everything had been served, sold and collected. I spent the rest of the flight watching Big Bang Theories I had already seen and blowing my nose. A sandwich and some cake was served around 10.30pm UK time and the desperation to get there was not eased by that offering.
Our descent took about 45 minutes and we landed at 7.04pm Orlando time. We taxied to the gate by 7.20. We were sat in row two which had me excited about being the first off the plane. Knowing that, the ground staff attached the tube to the middle door instead and we were off behind most other passengers which would prove to be troublesome. I say it every year, but MCO is a mess for arrivals.
Firstly, immigration was horrendous. We had arrived just behind what appeared to be a fight of 3500 Brazilians. We waited for 80, yes, 80 minutes to get processed. Poor Tom had to hold a now sleeping Freddie in his arms for the entire time. Louise was having hot sweats as despite all of her previous restroom visits, there was now a chocolate hostage fighting to be released.
Not surprisngly, our bags were waiting for us when we finally got through. We collected those whilst Louise sprinted for the restroom.
The next parts of moving through Orlando airport also contribute to my view that it is a mess. The whole double bag drop thing is silly, and we always choose to just take them with us, but that involves escalators and/or an elevator before you even get to the monorail.
With a light sweat on, Buddy the Mayor greeted us and we finally made our way to the bit where you walk for miles again, before more elevator nonsense to get down to the car hire bit.
Having been reunited with his pram, Freddie made full use.
There was no queue at all at the Dollar desk and I was in and out like a teenager's first time. They tried the upgrade thing, the extra insurance thing, the toll pass thing and the sat nav thing. I brushed them all aside and rejoined the group, now on a mission to get to the bloody villa.
We had been directed to row 2 to choose our mini van. My tired brain was confused by the fact that row 2 seemed to only contain SUVs until a staff member pointed out the mini vans were about five minutes walk down that row. What's another bit of walking at this stage?
We spent a few minutes trying to choose the best van available but gave up and just chose the one we were stood next to. The cases and pram were jammed in badly and we were off. Tom programmed the sat nav and with only one minor detour, as I took a wrong exit somehwere along the 528, after a long, dark and rainy journey we made it to Sandy Ridge. Wait, no, I took a turn earlier than I needed and we were still a few hundred yards away. A quick turn around, and a bit of swearing and we were now on the right development at least.
Now if someone can explain to me why the villas are numbered in a random order that would be great. We were in 206, so obviously next door would be 196 yes? I mean….
This caused another U turn and some more swearing before the van was more abandoned than parked on the drive and we started dragging the cases in.
Louise found a letter for us from the management company telling us that Hurricane Dorian was definitely going to completely ruin our entire trip. OK, in my tired state I may have over reacted, but the letter was written in a way that pretty much said we would either need to evacuate or spend two weeks in the bath tub. My mood was not a positive one.
Add to that, my dissapointment that the villa seemed to be less than we were expecting. I spent a decent amount of time looking for a cheap (we weren't supposed to be going remember?) villa with two en suite masters, sacrificing location to get that within our budget. At first glance, the two main bedrooms, whilst being en suite had, at best, Queen beds. Rightly or wrongly, when someone advertises two master suites, I would expect at least King size beds.
As Tom and I headed to the supermarket for supplies, I was, I have to admit, feeling a little downbeat. With the hovering threat of a holiday ruining hurricane and me seemingly having dropped another bollock with the villa selection I was not as upbeat as anyone should be at this point of a trip.
This was compounded by the fact that the nearby Publix closed at 10pm and it was now 10.40, so we had to go across to the WaWa petrol station to grab some milk and cereal for Freddie's breakfast.
Defeated and deflated we got back to the villa and fell into bed around midnight.
Maybe it is my advancing years but this travel day is a real endurance test. It involved almost 24 hours of being awake, endless queues, waiting, dragging of luggage and frustrations. You may be hoping that things improve or this trip report might not be very much fun. Well, I have to report as I find, but don't worry, you are, over the coming weeks about to join us on one of our most enjoyable trips. Whether I can write about it in a way that you'll enjoy cannot be guaranteed though!
Till the next time…….