After all the moaning about being tired yesterday, it seemed our collective bodies now hated us as many of the group had spent the night awake and ill. Louise had a crappy cold and nobody in Rebecca and Tom's room got any sleep as Freddie was up coughing all night.
We were a weary and sickly bunch this morning. The plan had us all down for a character breakfast at O'hana, and that, by jingo, would still be happening, but only after a count of survivors fit to travel. That came down to the hard-core of me, Emily and Mikey. I amended the ADR via the app and we set off for the Polynesian leaving everyone else to get themselves better for the MNSSHP party later.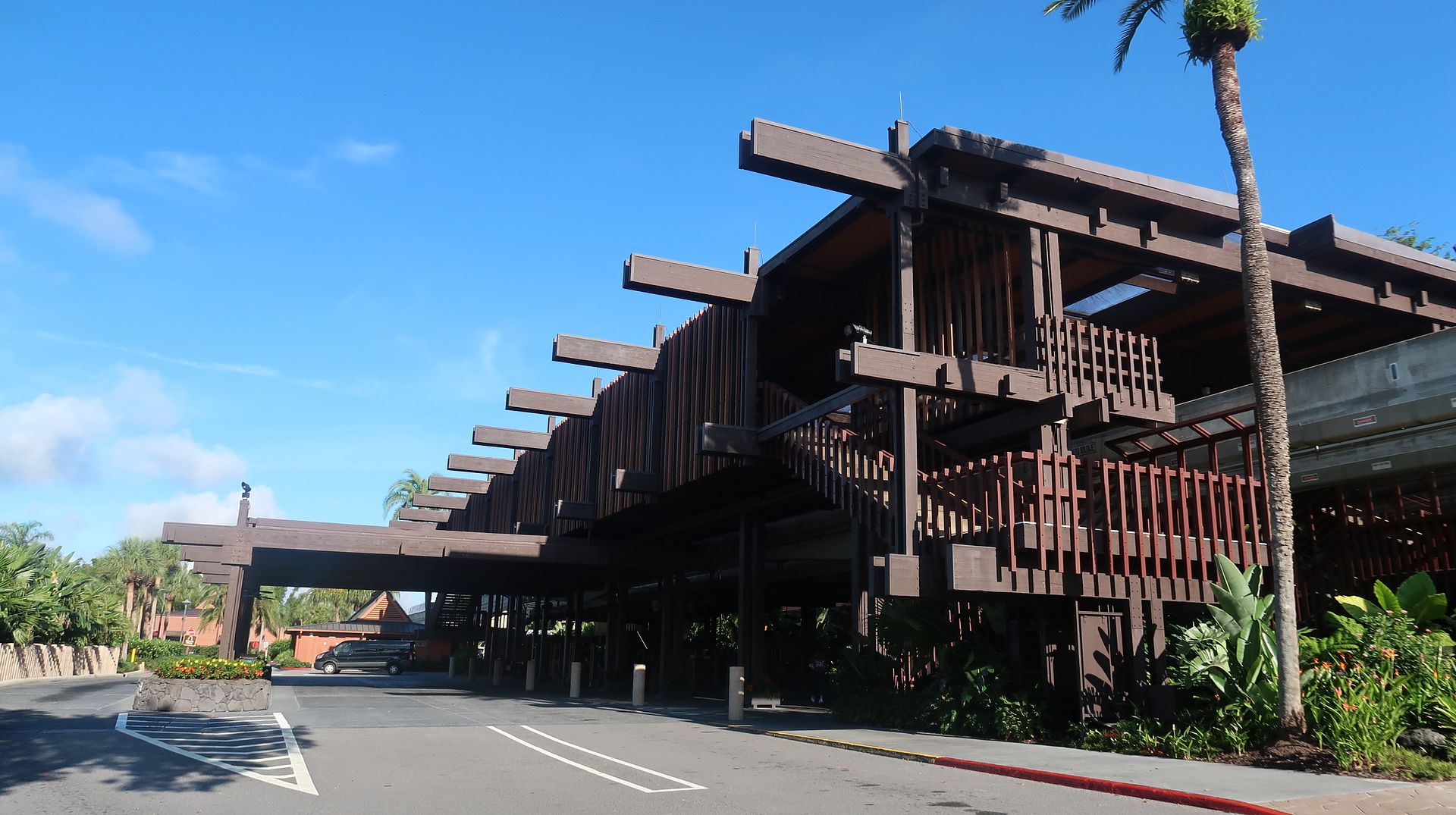 This is a lovely resort, and of course, if somebody wants to gift me a stay at it, I'd be grateful but it doesn't feature in my list of places I'd love to stay at. The villas look awesome out on the water but I think I would put Wilderness Lodge, Beach Club and (just to say we'd done it) the Grand Floridian above it on my list.
The queue to check in for our meal was the longest of our trip so far. What can people be talking about for so long to the poor patient cast member?
Once we had finally got to the desk and spent about twenty seconds checking in, we took a seat in the lobby for two minutes until we got our text to say the table was ready. Our seater, (is that a word?) in the short journey to our table had discovered where we were from, asked several questions about it and then described a summer she spent in Bury St Edmunds. I guess she does that a lot.
Once seated we were juiced up and served this delicious pineapple bread thing.
We destroyed that whilst waiting for our platter to arrive….
We all declared the waffles the pick of the platter but happily tucked away everything we had been brought plus selected seconds.
The timing of the meal was great. Character meals can be rudely interrupted by characters, but this morning, we were left in peace to eat and only as we were feeling so full we may be sick did some friends turn up.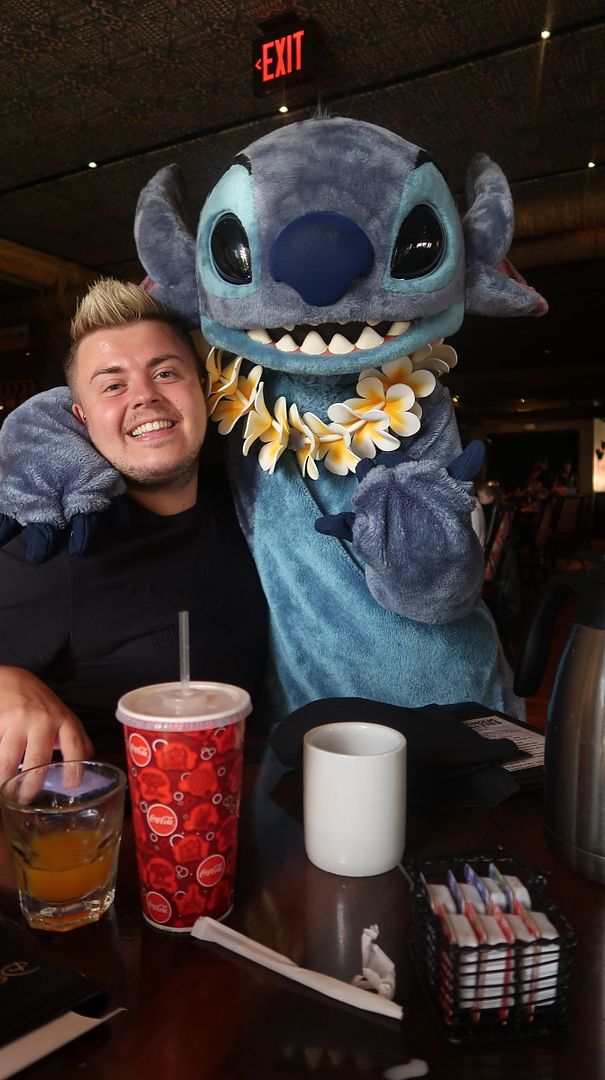 Stitch was great fun and really demonstrated how character interaction should be done.
Vowing never to eat again (spoiler – we did), we strolled back to the car and drove back to the villa.
Everyone was resting up around the pool and Freddie was having a sleep making up for what he missed last night.
I had a quick dip and a read, but not at the same time.
Having missed out on the huge breakfast and having to have made do with whatever stuff we had in the villa for their breakfast, Rebecca and Tom were starving now and itching to get going. It was 3pm by the time everyone was ready and of course on the way we stopped at Walgreens. This time it was for cough medication for Freddie and to collect my one million point loyalty card reward.
We parked up in the Magic Kingdom car park and trammed it into the TTC. Freddie needed a quick change so we enjoyed the raging heat whilst waiting and, with no immediate rush to be on any ride, I allowed us to take the ferry instead of the monorail. This was mainly due to the fact that I could see the ferry sat waiting for guests and there was a queue on the ramp up to the monorail.
We set off on the short walk to the ferry and with about six steps remaining to the gate, the cast member shut it and said we'd have to wait for the next one. The four minutes we had to wait for the next one would of course, in my mind, ruin the whole day.
Still, I've waited in places with a worse view I'll admit.
We were on board soon enough and ready to set sail.
Once in the park we were directed right just past Tony's to an area where we would collect our wristbands and candy bags, who, I had mistakenly thought was a 70's porn star.
We picked up our first lot of candy, sampling a couple of pieces as we headed to sort out the hunger issue properly at Casey's with various shapes of hot dogs.
We ate outside, fed the ducks a bit and admired the costumes some folks had put a huge amount of effort into.
The first order of business was our Space Mountain FastPass so we headed over to Tomorrowland.
Sorting out the rider swap was a right pain in the arse here as the magic tablet they normally use was broken. The cast member had a huge group of folks gathered around her trying to sort things out and she was having to remember faces to allow folks to ride once the first part of groups had done so. It was almost a longer wait to do this than it was to do the standby.
Eventually we were seen and Rebecca and Tom rode first. It took quite a while, more so as the (I assume temporary) exit now is right around the back and it's a fair old walk back to the entrance.
It was 5.50 by the time the second lot had ridden and restrooms were needed by some weaker members of the group. This meant that we missed our FastPass for Peter Pan which ended at 6, with the park closing then for the party. As penance for needing that wee Louise then watched a sleeping Freddie whilst the rest of us headed to the two mountains in Frontierland. They were both walk ons.
We had arranged to meet up with Ceara again this evening so we did this now before heading back to Louise who was in Liberty Square.
Next it was Haunted Mansion which I guess is a must do at the Halloween party. It was busy but Ceara worked her cast member magic and literally got us in the back door to avoid a twenty-five minute queue. Freddie needed changing and Mikey needed the loo so we rode without them.
I don't know why but I thought that this chap had a very fetching hair cut.
As we exited there were some actors up on the lawn who were very entertaining.
We watched them for a little while before reuniting with the others and bagging some more candy in Fantasyland. We then took in Mickey's Philharmagic and did some actual buying of some stuff in the shop at the exit.
It was raining quite hard at this point and we walked over to Small World hoping to ride and avoid the wet stuff. There was a fifteen minute queue but again Ceara had us whisked through to ride immediately. I did feel a bit guilty walking past the queue. We got some strange looks as of course there are no FastPasses during a party night so everyone was probably wondering what we were doing.
I figured over the years, I've paid Disney enough cash to warrant the odd bit of good fortune.
Having ridden this countless times, tonight we experienced a first. It broke a bit and the music stopped, as did our boat and we experienced it in silence for quite a while. Some may say that was a blessing. It extended our ride anyway which Freddie was happy about as he loved this one.
We were going to ride the Mine Train next but it was down due to the weather so Ariel was the alternative.
Another Freddie favourite.
Next, Rebecca and Tom took Freddie on Dumbo and the rest of wandered the huge shop nearby. Somehow I emerged with huge Rice Krispy treats and slushes for all which we all enjoyed before returning to the now functioning Mine Train.
Freddie was alseep again after all his riding exploits so Rebecca and Tom sat out with him whilst the rest of us rode. This is an excellent ride and very smooth. I think it feels better in the dark too.
We did another candy stop and then made our way to the castle for the 10.45 show featuring the Sanderson sisters. We found a place to stand in the crowds and waited.
We waited some more and it became clear, mainly due to it being announced several times, that the show was delayed due to the weather. It wasn't raining now but the stage was wet and an army of folks were on it trying to dry it out.
Eventually they declared that the show couldn't go ahead but the sisters did come out and they performed one song to avoid riots breaking out in the crowd.
We stayed where we were waiting for the parade.
We took the opportunity to take some pictures in front of the castle with the crowds now moving away to bag parade spots. This was one of those moments you can't plan for. We literally had the area in front of the castle all to ourselves and it was lovely to let Freddie explore a bit and take too many photos.
The parade was excellent and we had a great view despite not staking one out.
After the parade, Freddie dropped off to sleep and knowing that the impending fireworks would wake him up, Rebecca and Tom decided to walk back to the car with him.
With a now dry stage the 12am Sanderson sisters show went ahead without a hitch. The three sisters really are excellent.
When the show finished we decided not to leave with the crowds and we hung back instead enjoying the castle.
After a while we started to make our way out through the shops, buying more stuff and by the time we got to the exit it really was getting late now.
We got the resort monorail and the tram back to the car at 1.15. We dropped Ceara off at her apartment and made it back to the villa at 2am. We were all beyond exhausted but I think everyone agreed that this party was a massive highlight of our trip. I don't know it took us until now to do it, but it won't be the last time for sure. I also have my eye on the Christmas party at some point!
Till the next time….