This morning saw energy levels at a very low-level. Everyone slept in and I blame this tiredness for me and Louise having a corker of a falling out which led to an epic amount of cold shoulder and glares around the pool. Hey, even ladies as lucky as Louise to be married to me don't have sunshine and lollipops all the time.
The time around the pool this morning, recharging the batteries, was much-needed and the decision last night to delay our start at Epcot was a very wise one. We were ready to leave the villa by 12 and called at McDonalds to further replenish our bodies. There's little that a huge intake of calories cannot make better. We ate in the car park before making our way to our parking spot in Discovery 17.
Security was a right pain the harris today. It took an age and this needs improving as you can't have guests waiting fifteen to twenty minutes to get into the park. I'm not saying they shouldn't be doing checks, just do them in a better way.
It was 1.30 by the time we say the big ball.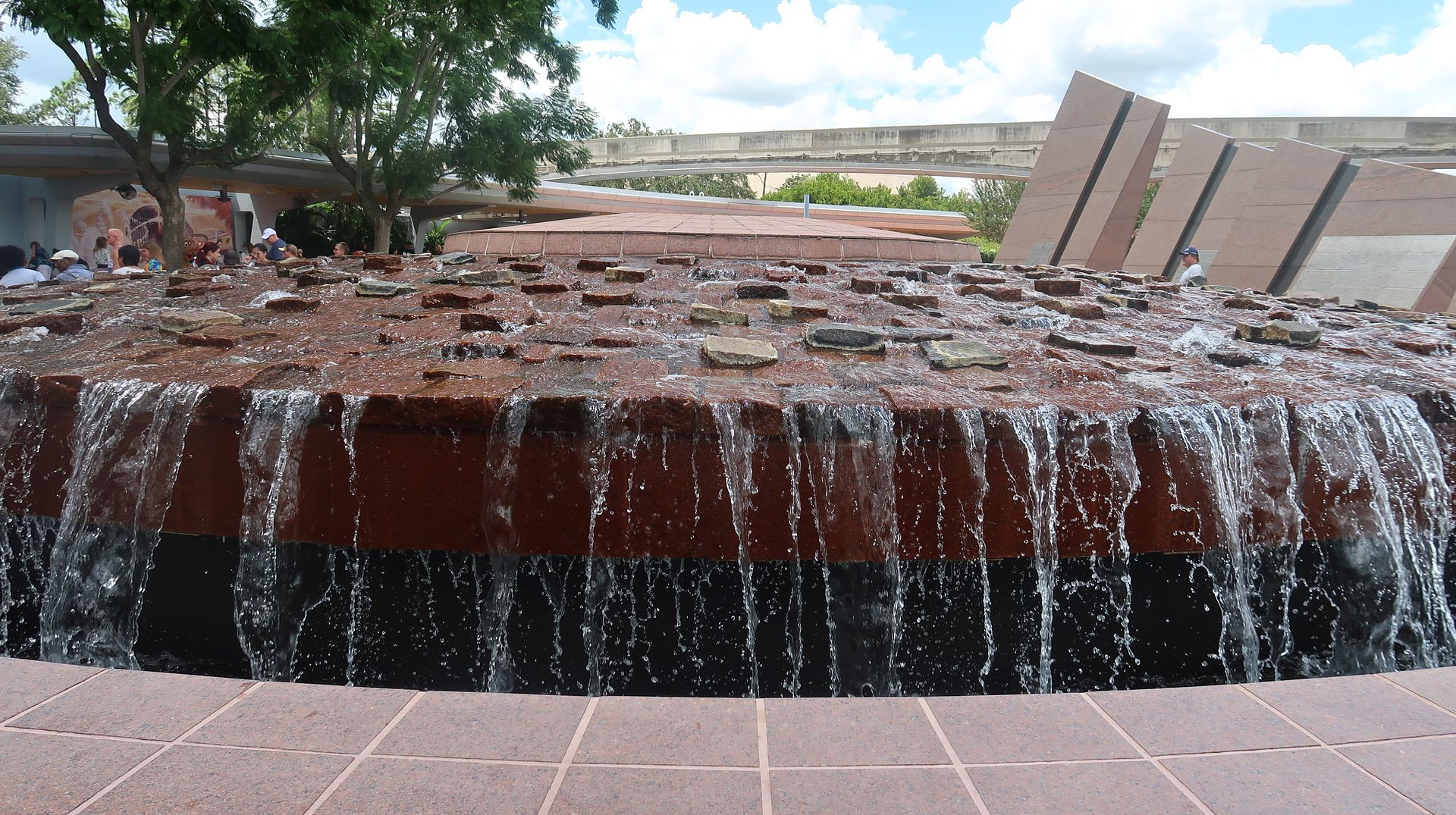 I had seamlessly rejigged all our FastPass reservations for today and even included Louise despite our fall out. The first was for Spaceship Earth and despite that slot now being immediately available, everyone decided they needed to go to the restroom. I waited like the patient, chilled out theme park wanderer I am.
I love Spaceship Earth. Firstly, it's a cool sit down, but the whole thing is just a shot in the arm of classic Disney.
It was raining as we left and Freddie needed his lunch so we found a bench in the covered bit on the way to The Land.
Once Freddie was full I took us into the short film festival which was in the old Captain EO theatre. Rebecca is still not OK with EO no longer being shown by the way.
I had no expectations for this but I was blown away. We watched three clever, moving and entertaining films before walking back to where Freddie had lunched to do our FastPass for a character meet and greet. We traditionally never use a FastPass for this, but we'd already done most of the rides and it was of course a requirement that Freddie meet Mickey on his first visit.
That's the photo right there. The whole trip justified and paid for.
With the main man in the bag Freddie moved on to some other new friends.
We had wondered how he would react to characters before we went and it's safe to say, he took this in his stride as he did everything else on this holiday.
We now made our way up to a very busy World Showcase and as the law dictates, started in Mexico. You can go the other way round of course, but you'd be wrong.
After a wander of the market stalls we did the ride.
I still miss the glorious cheese and 70's naffness of the original ride if I'm honest, but Freddie enjoyed it and danced the whole way round.
Rebecca, Tom and Freddie went off for a wander whilst the rest of us walked to the US pavilion to watch the Voices of Liberty.
We got a seat around the edge thankfully as this tiredness was not going away. Is it me or is this show ridiculously short these days. It may be my ageing brain playing games here but I have memories of shows in years gone by that went on for twenty minutes or longer. This one was about two songs and done. They were excellent of course but more would have been great.
It seems that we were not the only ones feeling a little low on energy today. This lady was asleep when we arrived, slept through the show, and we left her in the same spot when we left.
We continued our journey the correct way around World Showcase, stopping in most countries for a browse and a drink in a couple. We picked up the pace a little as it was getting very rainy and believe it or not a little cold. With that in mind and our tiredness we messaged Rebecca and arranged to meet up by the big fountain thing near the golf ball. I understand these may not be the exact names of these things.
At the risk of overplaying how tired we were, and I know I have mentioned it a few times now, this is perhaps the best example of how bad it was. The plan had Teak Neighbourhood Grill for dinner. Knowing how much of a favourite that is to us, our decision to sack that off and just stay local to the villa instead and do The Outback will tell you all you need to know. Teak would have been a forty minute drive and would have meant a much later night.
I called ahead from the villa to bag a table and we waited just a few minutes after arriving to be seated.
Those of you paying attention will remember that Rebecca and Tom missed out on The Outback on our first night so in a way it was good to have them try it, and we of course started off with a Blooming Onion and Cheesey Fries.
I was too slow with the camera.
The waiter was a real character. His voice was the male version of Marge's sisters in The Simpsons. He was clearly well versed in dealing with Brits as she used the word Cheers endlessly and he had a special skill of talking non-stop whilst taking our order. His service was excellent though.
We had –
Me – Steak & Shrimp
Emily and Mikey – Chicken Tenders
Tom and Louise – Philly Cheese Steak
Rebecca – Caesar Salad
We were literally falling asleep at the table. That may have been the numerous cocktails and wine though to be honest. We paid the bill, crawled back to the car and made the short journey back to bed. It was 10 o'clock.
It would appear that my plan had broken everyone and I was hoping a good night's sleep would sort everyone out. You will have to tune in next week to see if I was right.
Till the next time…..