As we near the end of this trip, even the writing about it has me feeling tired. I look at my notes for this day and they are a scrawly mess, rushed and all over the place. A decent metaphor for our state of being as this day dawned.
I should warn you that the levels of food consumption during this day are epic. I know over the years we've been known to put it away, but prepare yourselves…
We had of course had a very late night and this turned into a very late start today. Of course I had expected this and only had a brunch on the plan. Even so, that quickly turned into lunch as we didn't leave the villa until 12.30.
Naturally Walgreens sucked us in on the way past. I didn't make a note of what we were buying. I mean, what could we possibly still need at this point? I did note that it took an absolute age and I was getting stressed about it.
On the bright side, we were heading for Hash House a Go Go. It took us until 1.45 to get there, but still, let's look on the bright side.
We hadn't booked or phoned ahead so it was pleasing to see that it was pretty empty and we were immediately seated. We all ordered coffee and juices of varying fruits and settled in to consult the menu.
My notes are so rubbish that I have no idea what this is or who ordered it. It looked nice though.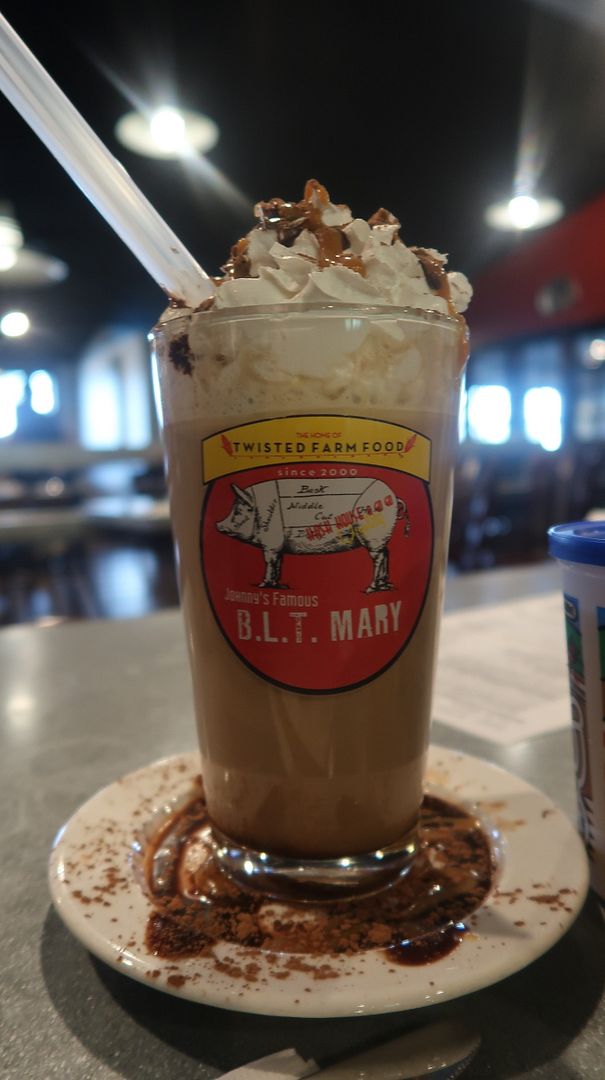 That looks like Louise with a mocha of some kind.
It took us quite a while to decide what we wanted. There is so much choice here and wanting to order the largest portion available it took some well spent time to ensure that was the case.
Me – Chicken and Waffles
It deserves two photos…
Mikey – Andy's Chicken Benedict
Tom – Pancakes with all the sides available
Emily & Louise – Stuffed Burger
Rebecca – Fried Chicken Thing
Freddie had a child's pancake, which in normal life would have fed two adults. He barely made an impression.
It seems kind of redundant to talk about portion size after posting those photos, but I'm gonna. Holy shit, the amount of food here is just incredible/obscene/dangerous.
Nobody finished anything, although I gave it a really good go. Tom was the last to admit defeat, with enough food left to regret leaving it later.
I love this place. It has quickly become a must do on our eatery list.
The bill was $240 including a nice tip and that included the waiting staff carrying me to the car whilst I vomited all over them.
Having already been tired, now, carrying that amount of food in my ample belly, I was close to a coma. Somehow, I pointed the car at Animal Kingdom and relied on instinct and luck to get us there.
Several people needed to expel things from their bodies, so we loitered around the toilets for a bit.
We entered the park and headed for It's Tough To Be A Bug. It was a walk on. I am old enough to remember when this was pretty much the headline attraction here.
We donned our bug eyes, and waited a few minutes before being admitted to the theatre. I was quite concerned about Freddie in here. Emily is 23 and still lifts her feet off the floor for the whole show, but once again, he just took it all in and let it wash over him with no negative reaction at all, even the scary bits. This child was built for Disney trips!
With that effort of having sat down for ten minutes we needed a drink and a rest so we got one across from Yak and Yeti at a frozen Coke stand. Some of us had rum in them, some, who were driving, did not.
After a twenty minute session of people watching and some much needed digestion we headed into the Up show. This will forever be "Birds of Flight" to us, but I am not resistant to change!
We had explained to Mikey that it was a bird show knowing that he was petrified of all birds.
As we waited for it to start, Freddie had a feed…
and then it started…
and that was about as much as Mikey saw. At this point, just after the first bird flew over the audience, he was seen sprinting for the exit. We didn't laugh much.
Tom became part of the tunnel through which birds flew. It was probably for the best that Mikey had vacated that spot on the end of our row.
The show was good fun. I can see why they have included the Up characters, but I'm not 100% sure they have created the best show that they possibly can yet.
We had a FastPass for Everest next. You simply cannot ride this thing too much.
Look how full of energy we look.
There's some compulsion that makes me take this photo every time I ride this thing.
The ride woke us up a little and pumped some much needed adrenaline though our sugar filled veins. I was simply too tired to tense my body on the way round which led to a whole new riding experience. I would recommend it.
Luckily we now had a FastPass for the ride potentially the furthest away from our current location, the Safari. Freddie had given up the struggle and fallen asleep so Louise sat out with him whilst the rest of us rode.
At this point of the holiday I was heavier than this chap and about as light on my feet.
Here's my mate Neil….
Rhino Neil.
That joke makes a welcome return from every previous trip report I have ever written. Much like myself it gets better with age….right?
It was 6.45 when we had safari'd and that meant it was time to…
We trammed back to the car which was here…
I am not clear why I took that photo on the way out, having clearly remembered where we had parked. I blame the fog of food.
Back at the villa we had a welcome half an hour of feet up time. At this point, as incredible as it sounds, we headed out to eat. This isn't something that you should attempt. We are seasoned professionals and have trained for this for years.
Listen, the plan said Olive Garden, and this, with days quickly running out, would be our only chance to do it. If it were even suggested that Emily could not have the Lasagne at the Olive Garden the consequences cannot be contemplated.
So we made the short drive to the Olive Garden on the 192 and once again, I forgot my camera so, you will be viewing the ones from my phone (again).
Upon arrival, we were told our table would be available in about five minutes. Being a larger party, and that's not surprising after our lunch, we had to watch several smaller parties seated as we glared at them with hatred and a shocking emerging amount of hunger.
That five minutes turned into twenty or more and I was not happy. The manager sensed this and apologised, offering us free appetisers to appease our disdain. To be honest, nobody was going to have appetisers as were only just hungry, but being free and us being pigs we did of course.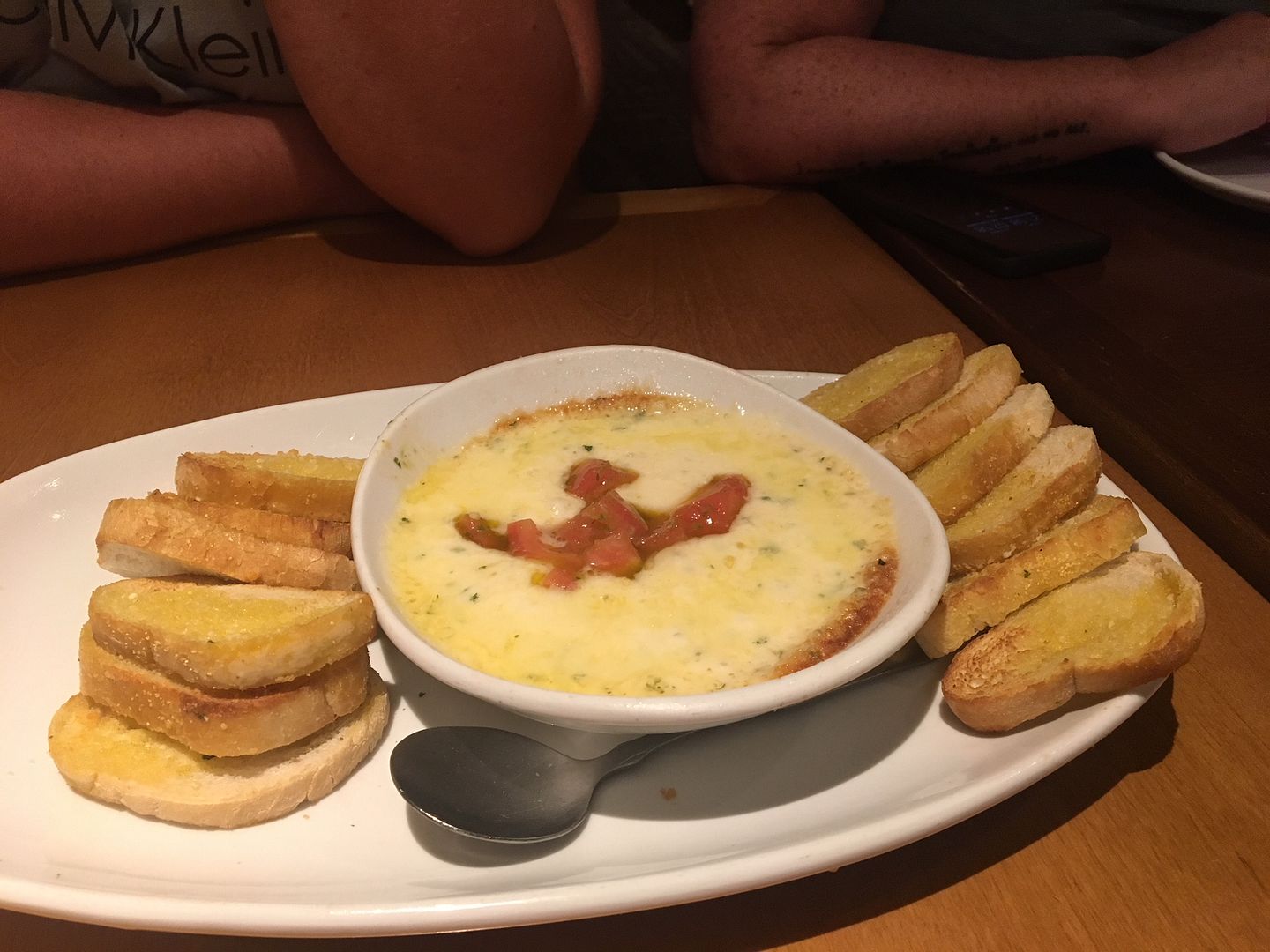 Naturally we ordered a light salad and not this huge bowl of melted cheese and bread.
Along with this other huge bowl of molten cheesy spinach stuff and bread….
Plus these breadcrumb parcels of more melted cheese with sauce all over them.
To be fair, after eating all of these, we did then have some salad….
and more bread…..
Before tucking into our main courses….
Rebecca and Emily – Lasagne
Mikey and Tom had the Tour of Italy which was upside down for reasons I can't explain.
Louise had the five cheese Ziti, as we hadn't had any cheese recently.
I had the Shrimp Scampi and clearly forgot to take a photo of it. I had literally looked at the menu and found the entree with the lowest calorie count. It was a little late for that I'll grant you, but every little helps.
There were cocktails and wine and a bill of $217 including a tip. It was, as ever, one of the best meals of the trip despite us forcing all this down due to our earlier gluttony.
Had I mentioned we were tired. We dragged our flabby bodies to the car and made the ten minute drive home before collapsing into bed at 11.
Till the next time…..