As often happens, the number of folks who turn up to read this nonsense goes up quite a bit when a trip report happens. I'm grateful, but come on, where were you buggers when the rest of us had to endure the weekly grind of me papping on about each minor detail of this trip? I appreciate anyone who tolerates what I churn out here, I really do, but the real heroes are those that are here every week as I struggle to squeeze out 600 words on a failed FastPass booking and a bad commute to work. I salute you.
If you had been around for that, you'd know that the plan was carefully crafted, honed, perfected and laminated over many, many painful weeks. Today, as our third day dawned, I was sat in front of the rolling coverage of Dorian, with my plan in tatters and in need of being put back together. I had time to do so as I had been awake since 5am. At around 7am I made breakfasts for folks, put a wash on and re-engineered the plan all at the same time. If there had been a brush available it would have gone up my rear end to sweep as I went along.
The thinking at this stage from the experts on the telly was that Dorian would "hit" on Monday, some three days from now, and that day on the plan was Animal Kingdom. Today should have been a strategic rest day at a water park, to get us over the inevitable tiredness following the travel day and first-day adrenaline. So I moved that around and brought Animal Kingdom forward to today, thinking that we'd either be in a motel in Carolina or hiding in the bathtub come Monday.
I was making FastPass reservations whilst filling the dishwasher as everyone got themselves ready. As you can imagine, there was slim pickings available on the FastPass front at this late hour.
We left the house at 9.20am, took Sherberth Road and we were pleasingly in Giraffe 42 before too long at all. A tram was waiting just for us and it whisked us to the drop off point which again was still some considerable distance from the actual entrance.
We made our way up the paths and into the park…
Freddie is currently obsessed with Up! and so we were delighted to see Kevin wandering about as we entered.
It does make you wonder what Freddie makes of the whole thing. Having seen this character on his telly for months, to have it there, in front of him, must be weird. He, of course, took it in his stride with a smile and a wave.
Because our last-minute FastPasses were crap, we had nowhere to be immediately so we took the chance to do something we only do with no rides to get on. Or at least we did when the girls were little. We headed, for the first time in many years, to the boneyard.
First, Freddie was let loose in the playground part and did some sliding.
Then we took him over the bridge to the dig.
I said this at the time, but it was incredulous to me that it had been something like twenty years since I was watching the girls do the exact same thing.
It was a lovely half an hour or so watching Freddie fill his shorts with that thing they pass off as sand and then we moved out of the boneyard and Rebecca and Tom took Freddie on the Triceratop Spin.
As they boarded and we got ready to do the "grandparent wave" I bought a couple of tubs of popcorn as it had been many minutes since food passed my lips.
Freddie was looking very hot after his ride so we made our way into the nearest source of AC to cool him down a bit. That happened to be a shop and I left a good few dollars lighter having given in to his pleas for a plastic thing that produced bubbles. He shunned all other models in favour of the Ariel one. I understand that, as I too would choose an Ariel that blows.
We had a FastPass looming for It's Tough To Be A Bug now, yep, that's how slim our pickings were. As we arrived to find an unsurprising five-minute wait we took the chance for Freddie to meet two of his favourites, Russell and Doug.
On the way into the ride, I think we were all little concerned at how Freddie might take some of the effects, noises and darkness in this show. To that end, we made sure we were first into a row and of course moved all the way to the end so that should he not be too happy he could be easily taken out.
We needn't have worried. It seems that this child was built specifically for theme park touring. He loved it all and did not flinch at even the most scary elements.
Lunch was very much on our minds now and as we made our way over to Pandora, at an inevitable restroom stop, I mobile ordered for everyone.
I have no real clue what everyone ended up with, but they looked like this and it all cost $120.
Everybody said their dish was tasty. and surprisingly filling. I had tried to get sangrias for Louise, Emily and Rebecca but had to sacrifice one of them as only I had photo ID and it's a two per ID limit.
Naturally, a restroom visit followed and as we loitered for that to happen rain came along. Luckily, we managed to find a table with a huge brolly over it to sit it out. Throughout lunch, I had been watching the app to see what the wait times were, as Flights Of Passage had been loitering around the 60-minute mark all morning. Freddie had fallen asleep by now and as the rain continued the app showed the wait time drop from 75 minutes to 60. It was now or never. Rebecca, Tom and I decided to go for it. Emily didn't feel like waiting for an hour as she wasn't feeling great.
We left Freddie and an allocated amount of cash with Louise so that they could amuse themselves whilst we rode.
One of the drawbacks of riding stuff for the first time, or at least queuing for it, is that you have no concept of how long you have yet to go. In the end, the wait was more like 80 minutes, but, it was still worth it and that's from someone who typically has a 20-minute wait limit.
I found the mid-queue Blue Man Group show a little disappointing to be honest.
Having been so frustrated not to get a FastPass for this, although I never mentioned that in the build-up to the trip, of course, I was chuffed that we got the chance to do it without a wait numbering many hours.
We exited and met up with Emily and Louise, full of tales of how good the ride is and we made our way over to Everest as I had managed to secure at least one decent FastPass for today. We set up baby swap with the cast member at the FastPass entrance and Louise and I sat out first with a now awake Freddie as the others rode. I took Freddie over to the wall where you can watch the ride coming down the big drop. He loved it. We played a game of "Ready Steady…Go" for each train as it cam down the drop. This is one of those moments that doesn't involve a ride, an expensive meal or elaborate hotel but it's one that I will remember for a long time. It was a lovely thing.
Louise and I then rode. Freddie may well have been at the same wall, watching us as we came down the drop but I was not in a fit state to do any sort of "grandparent wave" as I screamed like a big girl.
Next, we made our way over to the next Nemo show, with a stop for some ice cream on the way and Freddie's first Mickey Premium Bar.
He made a right mess….just the way it should be.
As we waited for the show to open, he played with his Ariel bubble thing, attracting admirers from all around.
We took our seats in what, I'm sure, where exactly the same place as last year. Freddie did well with this one, with it keeping his attention almost all the way through. I too managed a similar effort. I like it, I do, but it's no Lion King is it?
Restrooms next of course before heading over to Dinosaur. En route, we took advantage of there being no wait to take Freddie on Triceratops again, this time with me and Louise. There would be no "grandparent wave" this time.
Freddie enjoyed it almost as much I enjoyed riding with him.
Still ultimately heading to Dinosaur we were distracted by the Dance Party thing. Freddie wasn't too sure about the characters at this stage of the trip, but with some encouragement, he got there.
Finally, we made it all the way to Dinosaur and this time Emily volunteered to stay with Freddie as she has been emotionally scarred by this ride since an early age and now, even at 24, refuses to ride it.
This was a walk-on and as we boarded we witnessed a mother encouraging her young son to get on and reassuring him that he'd be fine. If he's anything like Emily he may never recover and still blame his parents at the age of 24.
It was 6pm by now and we decided to make a move for the exit so that we could go and eat before Freddie was too tired. The walkout to the exit was a leisurely one involving shops and restrooms and in one of those I picked up some bubble refill fluid for Freddie's Ariel. I inserted fluid into Ariel whilst Louise was shopping, It serves her right.
We trammed back to the car in what was again incredible heat.
The plan was Applebees but we had to make a twenty-minute detour back to the villa so that the girls could pick up their IDs and a hoody. No, it's fine honestly.
I programmed the sat nav for Applebees not wanting to take any risk of a further delay to food due to navigational incompetence. It turned out that the Applebees in our sat navs history was the one of the 27, which was considerably further away than the one I would have driven too unaided on the 192. It seemed to take an age to get there but at least we were seated immediately when we finally arrived.
That iPad thingy on the table was a Godsend for gadget-obsessed Freddie, keeping him occupied brilliantly whilst we ordered. Our server, a mixture of Dr Phil and Richard Dreyfuss, was great. He had a comedy routine he clearly rolled out for all his guests but he was funny, knowledgeable and most importantly fast.
Apparently, the trip for the IDs was insisted upon as the girls had remembered that it always seems to be 2 for 1 happy hour at Applebees.
We ordered appetisers of a combo platter plus pretzels and cheese sauce.
These pretzels deserve a photo all of their own, so good were they.
We had –
Me – Strawberry Salad (no, really….)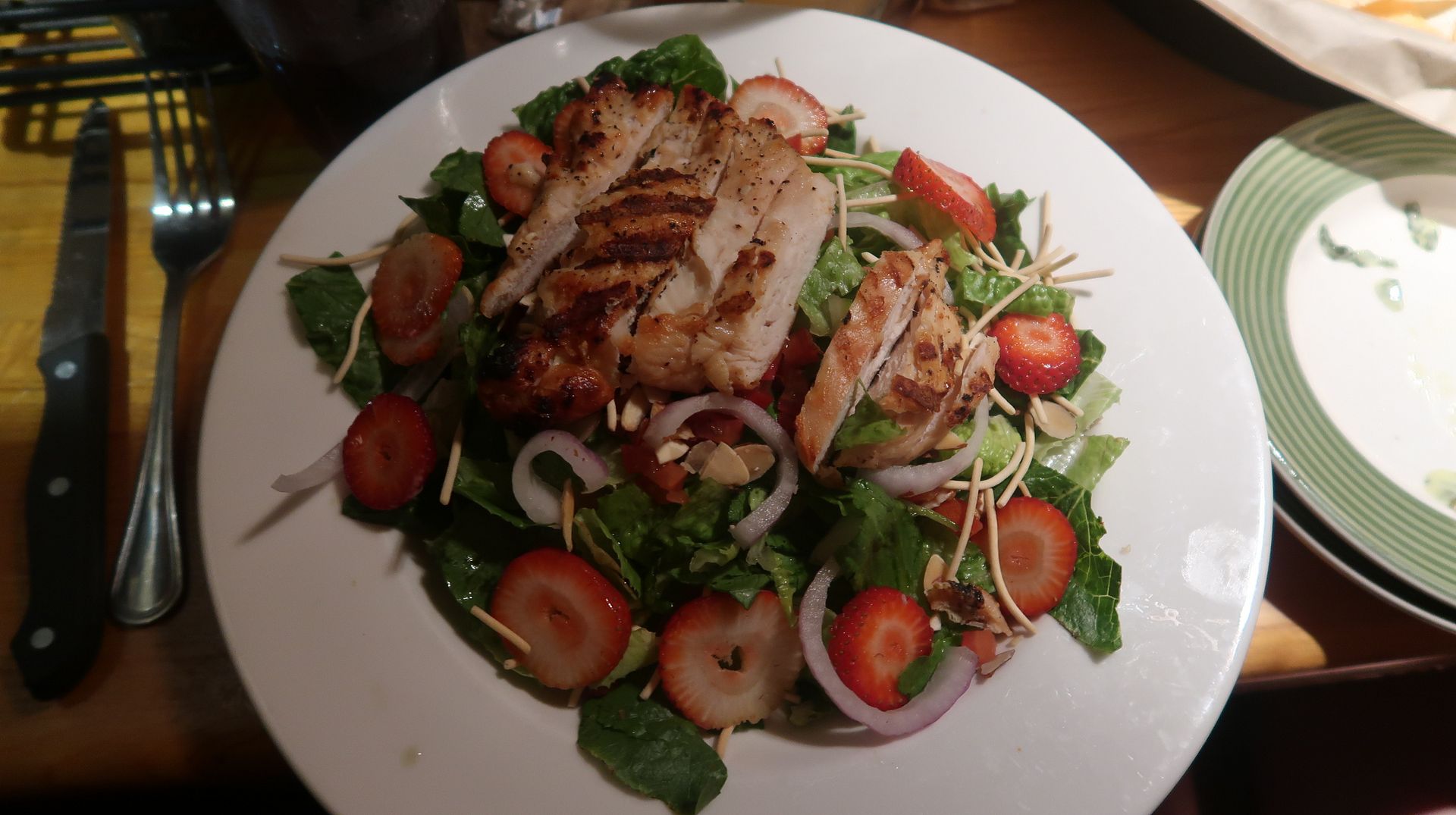 Louise – Chicken Alfredo
Emily – Alfredo without the chicken
Tom – Ribs
Rebecca – Quesadilla Burger
Freddie had pasta, some strawberries and yoghurt.
Tom managed three, yes, three chocolate milkshakes.
During the meal our server, Phil Dreyfuss, chatted to us about the incoming hurricane, mainly reassuring us that he doubted we'd get any major impact and we also watched with a mixture of disbelief and disdain as the table next to us managed to moan about everything until they got what they wanted which was their bill written off. I'm all for raising issues if you have them but their "problems" were petty much nonsense and they should never have a good meal in a restaurant again as recompense.
We were all too full for desserts and having paid the bill on the tablet thing on the table, it was about $180 but I didn't make a note for some reason, we made our way to the car.
We had to call at the Publix next door for reasons I didn't listen to or remember. Louise and Emily went in and the rest of us marvelled at the car next to us which seemed to be a tip on wheels.
After waiting longer than I would have liked, Louise and Emily returned and I drove us home. Full, tired and happy from what was another absolutely lovely day.
Till the next time……