I started today close to death. The onset of my cold last night had incubated nicely during the night into what I assumed was the onset of the Zombie apocalypse, as clearly no human could feel this rough and live to see next week. As I was due back at work at that time, I figured this wasn't a bad way to go and resolved to make the best I could of my remaining time. If the cold was going to get me I figured I may as well eat myself to death and go out in style.
Luckily, today had become a non-park day. What should have been happening on day two, didn't as we moved a theme park up due to Dorian, and so here we are on day nine, doing day two of the plan. I'm glad that's clear.
Typhoon Lagoon was the plan and it opened at 10am, so leaving at 9.40 was just late enough to have me silently tutting that we probably would arrive a few minutes after opening, seeing every sliver of shade already taken and us crisping nicely in the scorching sun for eight hours.
Upon arrival, the car park was empty, or at least close to it and me and my budgie smugglers made our way into the park ignoring my chaffing flabby white thighs as they attempted to start a fire between my legs. Not for the first time baby!
It did take us a good few minutes of wandering to find somewhere that would allow Louise unfettered access to eight hours of blistering direct sunlight and the rest of us some cooling shade. All of the umbrella spots had gone to the people who hadn't left their villas too late so we had to try and find a spot covered with some natural shade. As we began to set up camp, Tom, Rebecca and Freddie were already off into the water.
I sat, making good use of the toilet roll I had brought from the villa, depositing it once used into the supermarket plastic bag I had brought for that very purpose. I mean, who wants to be walking all the way to the restrooms! Fear not, I was depositing nasal secretions rather than anal, which is a sentence I didn't imagine using in this, or any report.
I read for a while between sniffs and blows and after some time doing that I wandered off to get some bottles of water for everyone. See how everyone rallies round when I'm ill so I don't need to do anything? No, me neither.
Eventually, the heat got the better of me and it was time to go and infect the wave pool with my germs. With every battering from the waves, I was no doubt launching ever so tiny molecules of germ-ridden snot in all directions. Caring is sharing. Hopefully, the coughing woman from the plane was in there and she caught it again.
Soon, that was very much enough of that and I had to retire back to my sun lounger, resting there like some oversized snot dispenser. Louise and Emily left me to it and went to do the lazy river.
By the time they returned it was 12.30 and I was so hungry I was about to call Bob Geldof to launch an appeal. Louise, Emily and I went off first for lunch leaving the rest to guard our possessions. My large plastic bag of snot ridden toilet roll was clearly going to be catnip for any potential thief.
Louise bagged a table and far too many condiments and napkins whilst Emily and I ordered. We had…..
Me – Chicken Burger
Emily – The Impossible Burger
Louise – A "Chicken and Rice Thing".
Emily's was pretty good but other than that the food was at best average. We returned to camp and released Tom, Rebecca and Freddie for their eats.
The rest of the afternoon was spent resting, for me anyway. Tom wasn't seen again until closing, as he spent every moment sliding down stuff. Imagine our surprise at the end of the day when he returned looking like a very red thing.
Late in the afternoon, I took Freddie into the wave pool for a bit, obviously away from the major action.
We had a lovely time and he wasn't keen on leaving at all, but we did around 4.30, having avoided a rainstorm at Typhoon Lagoon, which is incredibly unusual for us. I loved that time with him playing in the shallow end. I've banked that as a another one of those times to remember.
We made our sandy footed, damp bottomed way out of the park and back to the car which had attained the temperature of the sun whilst we had been away. That was handy as it would need to dry out my seat after I had made it all wet. Incontinence is a curse of the middle-aged.
We were soon back at the villa for welcome showers and changing. Our plan was to head over to Magic Kingdom tonight to watch Happily Ever After. Like some overconfident, detail averse idiot, I assumed that tonight's fireworks would be at 10pm, so I had booked the Plaza restaurant for an 8.15 ADR. See how I subtly hint at some upcoming planning woe?
We parked in Scar, drinking in another spectacular Floridian dusk.
There are few places on earth that make me happier than a tram heading into Magic Kingdom. Freddie seemed to concur. We were again dumped and forced to walk to the TTC.
I apologise but there's something about a WDW sunset that means I get a form of photographic Tourette's and can't stop myself.
It was right about now that I actually looked at the app to discover the time of Happily Ever After tonight and realised that I had once again dropped a huge ricket, as tonight for reasons that were never clear to me, it would be on at 9.15.
Still, the view was nice.
Fearing now that we wouldn't be done eating by 9.15 I was very annoyed with myself. I haven't been keeping count of all the absolute howlers I have committed this trip, but it's a lot. Clearly, I need many more trips so that I can improve my planning skills. I put this one down to illness, which I'm not sure I have yet mentioned.
With the new time table in mind, I upped the pace a little as we entered the park trying to get us to the Plaza those crucial few minutes early.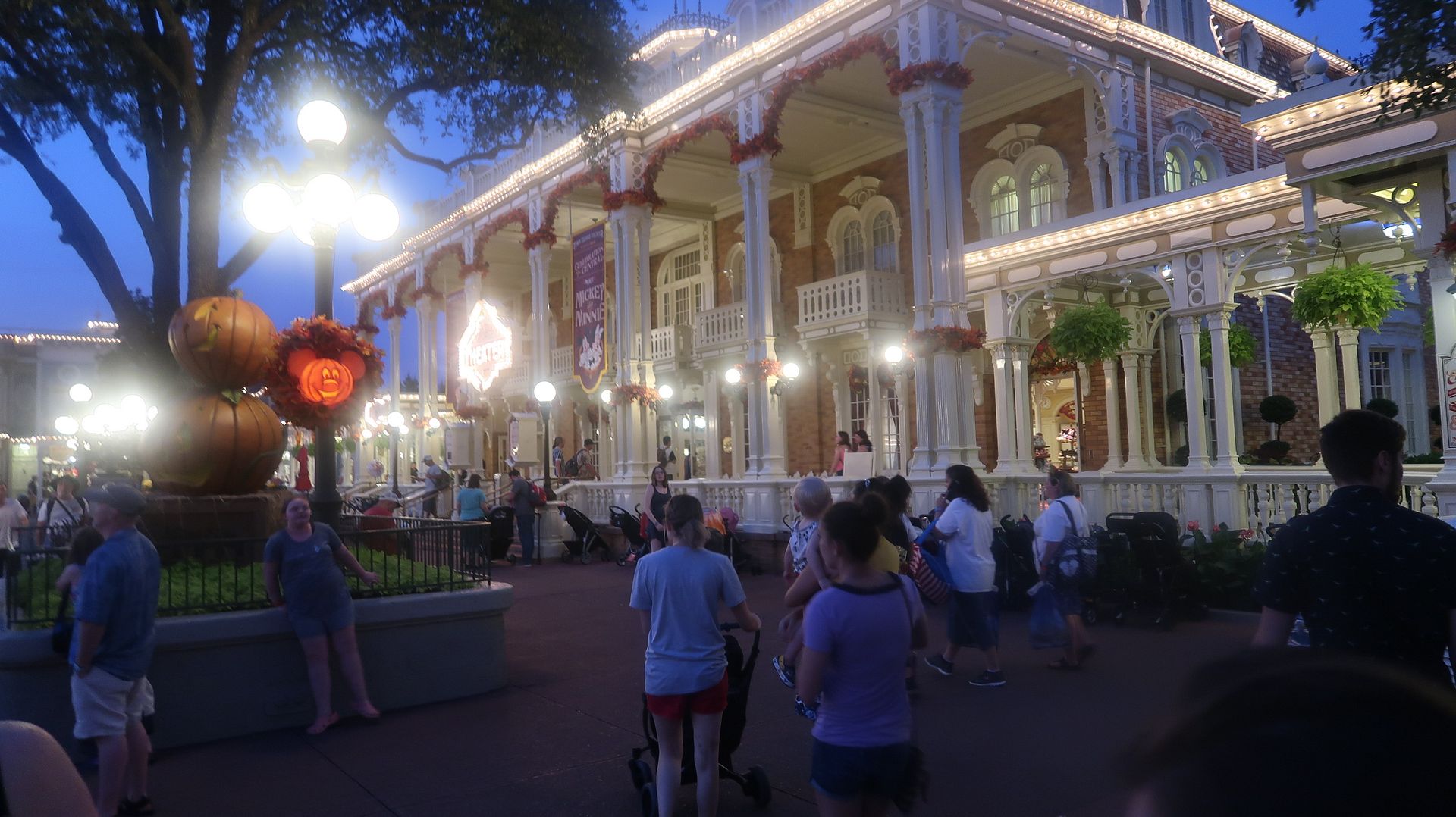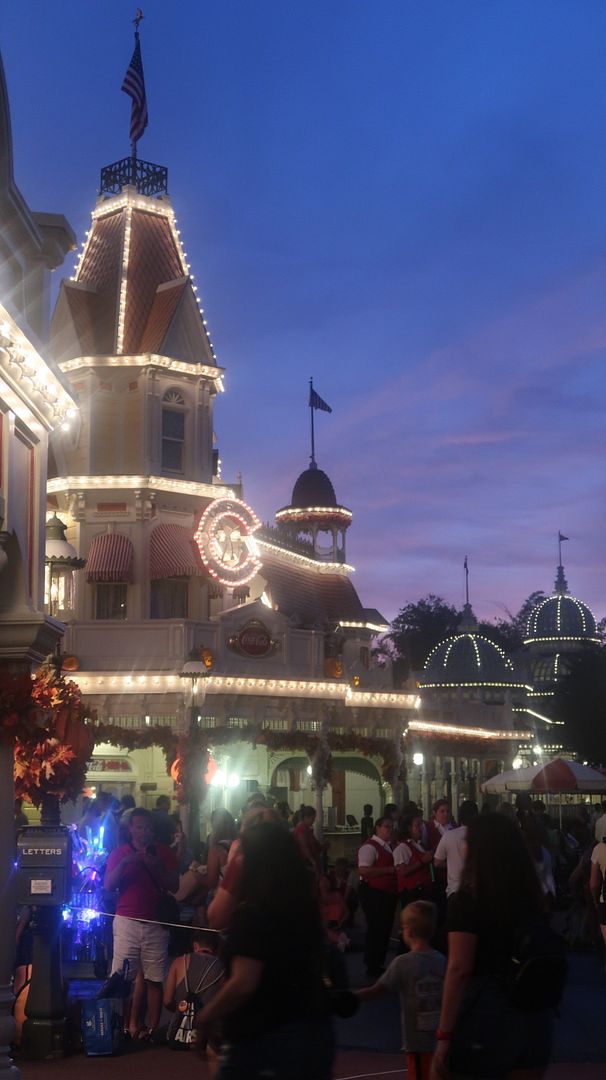 I hoped that we may be seated immediately, as we arrived at around 7.55 but alas no, we waited until just after 8.15 before getting shown to our table.
Freddie had been in charge of the buzzer and was convinced it was actually a phone. I have no idea who he thought he was chatting to.
Here, you can see Tom and his radioactive complexion. He's doing well to hide the incredible pain caused by his T-shirt touching his skin.
I look like someone who has been expelling snot from most orifices for several hours. See how I manfully suck it up, flash a winning smile and don't mention that I'm ill at all.
Service was a little slow, or maybe that was just my perception. We ordered as today's water park exertions started to hit Freddie like a ton of bricks. He hits the same brick wall that Rebecca used to all those years ago. As soon as the incoming food would hit his stomach we all knew it would be game over. To be honest the same would still be true for Rebecca!
Rebecca and Tom had one of the Plaza's special milkshakes each.
Upon its arrival, Freddie suddenly perked up a little!
Louise and I had the steak….
Emily, the Fried Tomato Sandwich,
Tom and Rebecca, a Turkey Sandwich
and Freddie the PB & J
The bad news was that, as feared, we missed the first few minutes of the fireworks and I had another enormous man baby sulk.
The slightly better news was that we had a window seat and had a decent view of the stuff we were missing.
I hastily paid the bill and we made our way outside to watch the rest.
At this point, as predicted, everything had caught up with Freddie and he immediately fell asleep in his pram. Rebecca and Tom decided to set off for the car with him before the crowds all did the same. The rest of us stayed to watch the end of the fireworks and whilst doing so got a message from Rebecca telling us that the monorail was down and the exit was like a scene from a disaster movie where thousands of people try to get on a ferry boat. We immediately left, just ahead of most of the crowds but still got caught in the carnage.
The ferry still seemed like the best option and we waited fifteen minutes to board one. It was packed and not one of the more enjoyable journeys on it, but it got us where we wanted to be.
We walked to the tram pick up and were soon back at the car where Tom, Rebecca and a very much asleep Freddie were waiting. I drove us home still feeling more ill than anybody ever in the history of the world, but I don't like to talk about it.
Till the next time…….