Friday 23rd September
You know what time I woke up. You're not as bored of it as I was. The upside was that by 7.40am we were ready to go to the parks for some theme park action. Today was Hollywood Studios.
Another plus was that at the crucial 7am booking window I had already been awake for several hours and I was able to give Disney some extra money to ride something my park ticket should already cover. A LL for Rise of The Resistance was secured. I had also bought Genie+ for the day. We had one day in each park so had to fall on that sword, brimming with resentment, it must be said.
Once parked in Mickey 301, we walked in and straight up to Galaxy's Edge, hoping to avoid the worst of the queues for Smuggler's Run.
This rush was probably why all my photos will not be winning any competitions.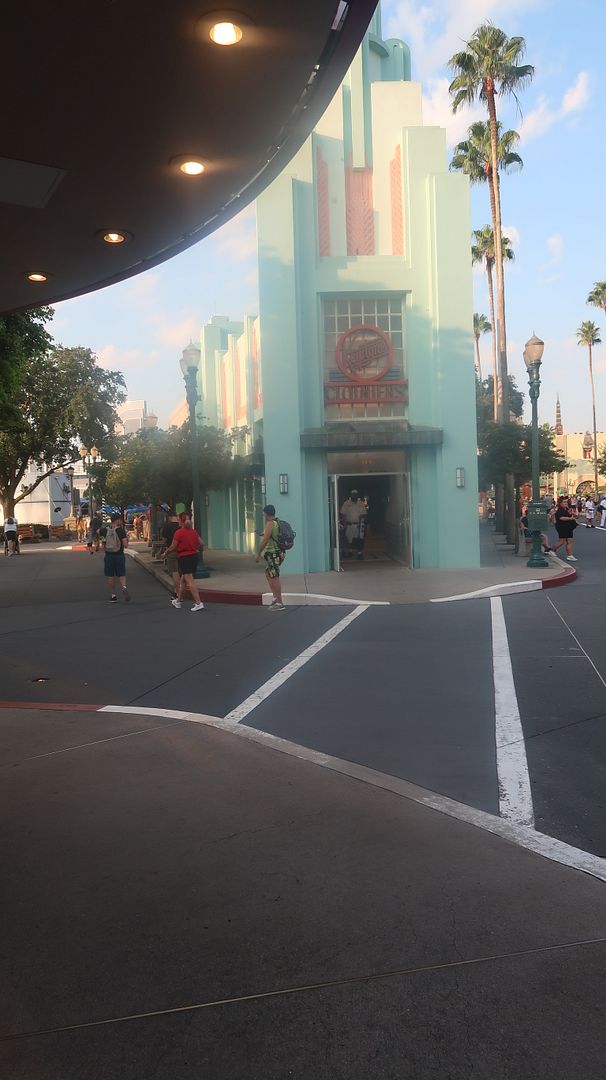 Slightly moist with a lovely early morning sweat, we were delighted to see a five-minute wait posted and we went in.
It probably took ten minutes, and I await my hefty compensation from Disney for that but we were soon being boarded for what would be Louise's first ride of this one. We were to ride with a really cute American family. Mum, Dad and two young girls who were to be absolutely dreadful pilots, but the enthusiasm of the whole family and commitment to the storyline made the whole thing very enjoyable. They were from "The South" of the US by the sounds of things and the Mum sounded just like Holly Hunter. It was just lovely to see a young family really loving the immersive experience.
If you have ridden this, you will appreciate the skill and dexterity it took to take a photo mid-ride.
Now, I allowed breakfast to happen and despite my disappointment with the Ronto Wrap things in January decided to risk another. They were much better this time around and very tasty. We sat and consumed those and a coffee, waiting for 9.30 to roll around when we wandered down to Rise, ready for our 9.40 boarding group slot.
No spoilers here, (apart from the many photos below!) mainly as I am pretty much the last person on the planet to get to ride it, but what an awesome experience. This is not a ride, it is an experience. There is (at least to me) unfathomable complexity in the whole thing and I tip my hat to the Imagineers who got this up and running. Chapek can suck my round hairy things for charging me extra for riding it of course.
We were heading for Frozen next and we came out of Galaxy's Edge and turned right walking past the ABC Commissary. At this point, Louise questioned this route as not being the most efficient. I reminded her that I am the map, and cannot be questioned on such matters.
As we approached the entrance we came across one of my pet hates in WDW. No, it isn't clowns sitting down halfway down a row of seats, it is people loitering at the entrance of a ride, dithering about something and making everyone trying to get in navigate their way around them. They were on the end of one of my most severe tuts. To add to the misery they caused, once they had worked out their arses from elbows and decided that they did want to go in, after all, they made a huge deal about excusing themselves past everyone walking in for some reason. Idiots.
Luckily people were being forced to move to the end of rows or there would have been a scene.
The show was good fun as usual.
I'd booked a LL for Rock n Rollercoaster earlier for right about now so we went there next, wincing at the 50-minute standby queue. We waltzed straight to the front along wth a load of other LL folks so I have no idea how the standby line ever moved forward. This, in a nutshell, is the issue Disney are having with Genie+. Too many folks are buying it and making the standby lines untenable. This is why they have stopped you from buying it in advance and increased the price of it on busier days.
Once we were in the alley, there was a worrying delay and an empty car or two was run. I feared it breaking down but luckily all was well and we rode and screamed.
Tradition dictates this photo is taken.
I declared it snack time and we got this stuff.
Neither snack would make it into any of our all-time top ten lists of things we've eaten at WDW but they were OK. We eventually found a table to eat at as things were busy. At the one next to us two people were minding their own business eating something when a woman came to their table and gave them a load of verbal abuse.
"What are you doing at my table?! Can't you see my scooter is parked next to it. Why have you sat here?"
Honestly, it was awful. How they were supposed to know the scooter abandoned by this table had somehow reserved it was beyond me. To their credit, they kept their calm, gave her a measured tongue-lashing and said she could put that table and scooter where darkness resides. They left her to it.
This woman then sat down and was looking around at us and other neighbours, trying to gain support for her approach. She said something to us like "Can you believe some people?".
We replied that honestly no we could not and gave her more passive-aggressive disapproval.
We had a little time to kill before the Beauty & The Beast show at 11, so we wandered the shops for a while. This would turn out to be a costly mistake as ended up in the Pandora shop and somehow spent a crazy amount of dollars on three necklaces, one for Louise and one each for the girls. The guilt at not having brought them with us was strong.
We completed our purchase at 10.59 and had to speed walk back to the theatre, taking our place on the bleachers right at the back just as the show was starting.
It was good to see the show back to something like its original format and not the "socially distanced" version we saw in January.
The zoom on my "old-fashioned" camera is rather good. It had to be as we were a way back plus there was a chap in the wheelchair section who kept standing up to take endless videos. The irony.
Somehow in the midst of all this shopping and watching, I had managed to book a LL for Toy Story Mania, which is where we headed next, avoiding a 50-minute standby queue.
The scale of the defeat I inflicted on Louise was impressive.
Every ride had long standby waits now and we were unable to book any further LLs for the moment. As ever the fallbacks in this scenario in DHS are Star Tours and The Muppets.
Star Tours first.
We encountered a new (to us) film in Star Tours which is always nice after so many years.
We emerged to light rain and this increased the speed of our walk to the Muppets. The wait was just however long the pre-show had left to run. We entered when it was at this bit.
This is a classic of course and one we have to experience but I always have and still do detest Waldo, the spirit of 3D. Just me?
As the show ended we encountered torrential rain and had to shelter at the exit for ten minutes.
Louise needed the loo so we braved the wet and made our way to the restrooms near Pizza Planet. I sheltered near the entrance of the ride we had just left.
We were in need of some sustenance so we headed to the Backlot Express and shared a Cheeseburger whilst avoiding another rain shower.
We nipped next door to watch the next Indy show. The recent wetness had curtailed the extent of that show quite a lot but luckily we had seen it once or twice before!
Now we had some time to kill until out next LL at 5.40 so foolishly we wandered more shops. We did catch a sliver of a parade as it passed.
I cannot explain this photo.
We joined the huge queue for a Starbucks and it took us an age to get a couple of coffees. We queued next to what Louise described as "the most beautiful female she had ever seen". I of course had no opinion on the matter but it would not surprise me to learn that she was friends with Jasmine, if you know what I mean.
We drank as we wandered to Slinky, picking up a Num Num on the way, but we had some cream for that back at the room.
The standby for Slinky was 100 minutes. It was clear why, as the LL queue was always busy and they had to keep letting those folks on as they had forked out the cash. The ride is always better than you think it is going to be, but not 100 minutes good.
Our final LL of the day was at Mickey and Minnie's Runaway Railway so we headed there now.
As we were queuing we were joined by a fabulous chap, dressed in a full-length leather coat and knee-high leather boots. He looked like a mix of Homelander from The Boys and Joe Longthorne (ask your Dad).
This ride has a really creative pre-show but endless queues. Just when you think you may be getting close to riding, more lines await. The ride exceeded Louise's expectations on her first time, but was no Great Movie Ride.
It was time to go. With no Fantasmic on, it felt weird to have no "finale" to the day, but instead, we had food to eat. Back at the car I searched for an Applebees and followed my phone to a new one for us near Celebration.
It was much quieter than all the other Applebees we had been to, so this was a stroke of luck. We were seated immediately.
Louise – Nachos of course
I had Parmesan Steak and Shrimp.
Both were very good and Louise benefitted from the 2-4-1 on drinks. The bill was a very acceptable $58 so I left $75.
We were both knackered and just wanted to go to sleep. I waited until I had driven us back to the resort before doing so at 10 after watching some news on an incoming hurricane. These things always just pass Orlando by right? It would be a lot of fuss over nothing no doubt!
Till the next time……