Monday 16th January
Up at 7am to the horrors of packing. The plan had been to use one case for the three of us for the cruise, which was where we were headed today. We would then leave the other two in the car. It soon became clear that this would not work and we would need two cases.
It took over an hour to get everything strewn around our room into our cases and bags before showering, making a coffee and then heading to the car at 9am.
As ever, breakfast was a priority and we decided to go to an IHOP and the closest was up on the 192.
There was no wait to be seated and we chose –
Me – Split Decision
Louise – French Toast
Emily – Omelette
It was all very tasty and very good value.
It was still only 10.30 when we finished eating and we assumed far too early to be heading to the ship. We went for a bit of a drive around Celebration as we hadn't been for a while.
We stumbled across some delightful properties.
Proper picture book stuff….
We left before we got arrested for taking photos of strangers' houses.
We then set the sat nav for Port Canaveral, which showed an arrival time of 11.45. Our boarding slot wasn't until 1.45pm, so we had no clue what we would do to kill that time once we got there.
This added to my overall feeling of anxiety at doing something new. I had no idea how any of this cruising stuff worked and I didn't like it. Some research may have eased that anxiety but life had been busy pre-holiday so here we were, heading into the unknown.
We did the uneventful straight drive out to the coast.
In the photo above you can see our Toll Pass thingy. I would certainly say that the extra few minutes it takes to pick one of these up at the airport is worth it. You can just sail through the Sun Pass lanes and not have to worry about finding change etc.
Enough pictures of roads now?
Have some water instead.
Back to roads again.
As we neared the terminal, I naturally turned down the radio so I could concentrate and luckily was able to follow a Disney Cruise bus into the right place.
As we entered the relevant area at Terminal 8 someone directed us to a spot to drop off our luggage. We handed them over and in my "I don't know what I'm doing" state, I handed over a $20 tip rather than the $5 I intended. If America could make the notes look different to each other that would be great. What do you mean $20 was correct??
We drove into the car park, paid $95 and left the car there.
As we headed for the check-in bit Louise of course needed a restroom so Emily and I stood with the cases starting at the entrance to the terminal, so close but yet so far.
After about six hours (I do not exaggerate) Louise returned and we made our way in. I need not have worried about killing that extra time before our check-in slot!
We were still a little ahead of our boarding slot but I figured we'd see how far we got.
As we got to one of the check-in cast members the first hurdle and therefore small piece of advice I can share is, they need a physical copy of your ESTA. I did not have one. Luckily I had mobile data on my phone and she had to wait whilst I logged onto the ESTA site, retrieved each one and showed her the copy on my phone.
Not stressful at all.
Next, we went through security before heading up to the place where you waited until your boarding group was called.
We sat for about an hour before that happened. Once group 22 was announced I had no clue where to go or what to do, so wandered about until we found the right place. We were boarding!
As we reached the entrance a CM asked for our surname and we were announced onto the ship. A lovely touch and the environment into which you arrive is really impressive.
It felt like we were surrounded by professional cruisers who were not randomly wandering about aimlessly like us. But we enjoyed the wander while waiting for our room, sorry cabin, to be available. Getting your bearings on the ship is probably the single biggest asset to getting the most from the cruise, so do more research than I did.
Eventually, we found our way up to deck 14 and took in some of the views.
At 2 we headed to the room. No luggage yet but we dumped our bags, including a very heavy Ryan, and headed back out to explore.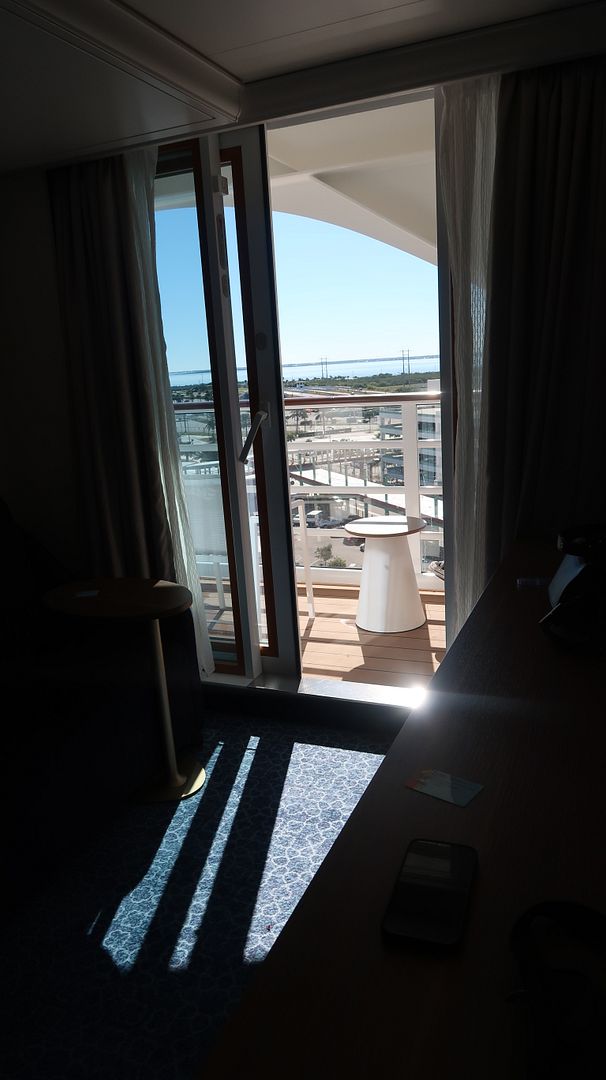 Any concerns about the size of the cabin, especially with three adults in it were dispelled. It was fine and our bed was probably the most comfortable one we had all trip.
We had some lunch in Marceline Market at 2.45. Just some chicken tenders and burgers with some beer, wine and rum for Emily. She was at sea now!
Sam, a UK chap behind the bar, somehow talked me into spending $16 on that beer glass. It was mine for the whole cruise (you get a card to redeem for a glass) but as I drink about three beers a year I doubted I would remember or have anywhere near enough beer to get any value from it.
We continued to explore.
I didn't think we were getting to Nasa until tomorrow?
Ah, sorry it's Nassau we are heading to!
We stopped in another bar called the Keg and Compass and I had a Guinness, Louise a wine and Emily another Rum and that took us almost to our sailing time. I appreciate that may not be the correct technical term.
Rather than join the crowds watching the sail away party we returned to deck 14 where it was more peaceful and had some fab views as we left port.
Whatever the coming few days had in store, at least we weren't on that boat.
There's something mesmerising about the sea when you live 50 miles from it. I couldn't stop looking at it and taking photos.
Back in the room, it has to be said that Emily and I did not feel well. We had not yet established our sea legs and despite the huge size of the boat, we could feel the movement. We rested a bit and then got ready for dinner. We stopped in the Bayou (a bar) for a drink but I couldn't finish mine as I had to go back to the room to take care of business and my upset stomach.
When I returned we wandered around the very posh jewellers onboard, expertly buying nothing before heading to the Marvel restaurant for dinner.
In another spectacular example of how little research I had done prior to doing this cruise, we were, it has to be said, shocked to discover we were seated at a shared table. Best efforts had been made to match us up with similar folks, in that it was another party of three, two middle-aged parents and an adult child in their twenties but that is where the similarities ended.
Don't get me wrong, they were lovely people and we would get to know them better over the course of the cruise, as yes, you sit with them at every meal, but we may as well have been from different planets.
As we made awkward small talk and Paul Rudd did some acting all around us (not in real life), we had –
Me – Soup, Steak and a Sundae
Louise – Soup and Steak
Emily – Rigatoni and Gnocchi, who I thought played for AC Milan.
Not great photos, but you try explaining to three strangers from South Carolina why you need to take detailed photos of all your family's food before they can start eating it.
The food was good and Edi, our server, excellent.
We got some sea-sickness drugs from the shop after the meal and that sorted us right out. We didn't feel sick at all for the rest of the cruise.
We toddled off back to our room and had a welcome early night. The towel art was off to an impressive start.
Till the next time…..