Sure, I may have missed out on my long-awaited 50th birthday WDW trip due to a deadly virus but now that I am that old, on Friday I was able to have the jab that will hopefully prevent me from dying from it and also maybe help prevent me passing it on to someone else who might.
The experience was quick and I hardly noticed. If that isn't a perfect sentence for a blog post with this title I don't know what is.
My arm is a little bit sore and I felt extra tired yesterday but that may just have been the fact that I didn't sleep very much on Friday night due to a bout of heartburn brought on by my own gluttony.
By the 5th of June, I will have had both shots and a little while after that will benefit from the full effects. Ironically, that would make me holiday-ready for our current date of the 14th of June, but my expectation of that trip going ahead is very low currently. This is based entirely on WDW's mask policy, to be honest, as each day seems to hint that the US might be getting its act together now the orange blancmange isn't in the White House.
Just this week, Fauci hinted that masks and social distancing might be relaxed around the 4th of July, and then Biden was said to be considering relaxing travel restrictions by mid-May. Whilst I am delighted to see the US vaccinate literally millions of people every day I still think I'll be rearranging stuff again.
To highlight the constant conflicting thoughts as we all try to interpret the signs and signals, in the same week, a UK government minister was talking to the press and telling them that any chance of summer holidays abroad this year was unlikely. Now, his lips were moving at the time, and if, as he said, they were concerned about new variants being brought back to the UK by returning holidaymakers it does make you wonder why then it took them twelve months of the pandemic to introduce proper controls on who was entering the country and where they went. Someone more cynical than me may also think that they want everyone to spend their pent up holiday cash in the UK this year rather than let Johnny Foreigner have it.
So new dates and more rearranging will probably be needed. But rearranging to when? It's a tricky one this, as you may have gathered by now that I like to have things sorted and if I could, I would be battling with call centres already, trying to move everything for the third time (is it the third? I've lost count) but until we know when masks will no longer be required at the parks, I don't think I can.
I would imagine that the travel companies current approach of "Yes, book something, book anything, and you can change it for free a million times if Covid affects it" will very quickly revert to "You want to add a full stop to your booking? Well, that will be £6000 please," once things start to return to some form of normality, so I imagine this next change will need to be the last.
The challenge will come if the US does allow us in by mid-May, and then the UK also allow international travel on their May 17th timeline (to the US, not Europe I expect, as they seem to be struggling with a potential 3rd wave) but the mask policy is still in place in the parks. We just don't want to have to battle with Freddie about wearing a mask as he will not understand or tolerate it for that length of time. Hopefully, we will still be allowed to shift the thing without enormous penalty.
One outsider in this list of options is, should we able to travel in June, but masks still be required, then we could still go, skip the parks and just have some time in the sun, eating to life threatening levels and having some sort of holiday at least.
Ideally, we'd like to go this September. Well, no, ideally we'd like to go asap and not have to wear a mask, but we are where we are. Frankly, we've waited long enough now and I have September in my head as probably the earliest WDW and Universal may change their mask policies. Why? Well, by then everyone who wants a vaccine here and there will have had one, case numbers and deaths should be low due to that and for Disney, they will be about to start the 50th celebrations for Magic Kingdom and that has to be a big opportunity for them to claw back some of the cash the pandemic has cost them.
Conversely, they may be thinking that they definitely need to keep masks in place for a long time, as that may allow them to expand capacity and still be seen to be being careful with their guest's health. I guess what they cannot do is welcome in "normal" capacity crowds for the 50th celebrations and abandon social distancing and masks at the same time.
My ability to argue with myself, on both sides of the debate is impressive.
Of course, all this is my very uneducated guess and I don't trust myself enough to pick up the holiday and move it anywhere just yet. I can only do that once we know of course. So what happens if we get to a few weeks before our current dates and there is still no news on masks? I don't know.
Assuming we are allowed to, without huge cost or penalty, our only option would be to move it to early 2022. The current Disney mask policy is that they will be required for all of 2021, so that would seem to be the only vaguely definite way to be sure. I'd say early March would be our dates of choice.
There are a lot of moving parts to all this and it is, as ever, a confusing mess. Basically, I have not one clue what to do or when to do it. But to quote the very wise Joey Tribbiani…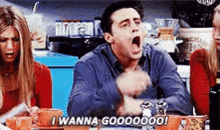 See how quickly my blogging returns to holidays after months of ramming our house move down your necks? Like childbirth, it is now seemingly forgotten. It isn't of course. We are still learning how to live in a new place. We had some guttering replaced yesterday at a moderate expense, and the list of repairs needed is a modestly long one, but don't think we're not glad we made the move. It's lovely here.
We are still missing some curtains and our couch, both of which have worse lead times than our Sky installation and we'll feel better once those are here. Sky you say? Well, after exchanging several shit-o-grams with them I eventually got a call from a nice Scottish lady from their "Shit-o-gram handling department".
To cut that long story short I finished the call with about 75 apologies and some compensation for them cancelling my install on the day, leading to an almost three-week wait for a new date. That was only fair as had I done that, I would have been charged for doing so. The engineer is due this afternoon, so fingers crossed for no more cock-ups and the ability to watch football on something other than my laptop.
So with little or no respite from my "this house move is stressing me out" season, you have been plunged directly into the "this bloody holiday planning is stressing me out" season. With the vaccine now inside of me and about 25 million others in the UK then as D:ream once said, things can only get better, right?
I don't know when we'll get to go back to WDW but I know for sure that we are going to make the absolute best of it and never take another trip for granted ever again.
Till the next time…….