Greetings. Having spent the last fifteen weeks or so using my weekly blog to report on our latest US adventure, I find myself trying to use my now flabby and out of shape blogging muscle to somehow come up with something to write that isn't based on rides and food. Bear with me as I ease myself back into the weekly discipline of thinking of something to write.
I am slap bang in the middle of a glorious two-week break from work. It felt needed, and of course, by the time I've relearnt how to do nothing, I'll be heading back into the daily grind once again, rueing not spending the downtime more wisely by doing even less than I did.
Our Christmas has been gloriously unspectacular. We hosted on the day, somehow catering for nine, with only about eight hours of hard labour in the kitchen required and our house still hasn't recovered, with pots, plates and presents still strewn about the place like the aftermath of a particularly wild party at Mary Berry's.
I could post ten minutes of video here, showing Freddie ignoring every present but one at our house on Christmas morning, but it wouldn't be fair to expect anyone not related to us to sit through that.
OK, I'll post one of the clips at a mere five minutes or so which outlines the chaos of the unwrapping process with two dogs and the glories of the Bolton accent. Louise will love it…..
The dogs did, of course, get their own gifts, courtesy of Emily so it's only right you see that too. There's nothing like quality content and….well, you can complete the punchline.
Other than that we have had some lovely lazy days, doing not much more than hoovering up leftovers and clearing the fridge of all the stuff we overbought whilst binge-watching stuff. It's what God and the baby Jesus would want.
I know I spent much of my trip report bemoaning illness, and in some ways, I have never fully recovered from that since my return to the UK. I have, it seems, been snotty, coughy and achy ever since. However, over the festive period, most of the family, and it seems most of the UK, have been struck down by cold-related illness, Freddie included, and it's fortunate that we are off work to enjoy our respective conditions to the fullest.
If I were a proper blogger who spent time planning what spews onto the page this post would be a glorious retrospective review of the past year and indeed past decade, a decade for which I have blogged almost every week in its entirety.
Instead, I am stumbling around this Twxitmas no man's land in a tired daze, wondering if it's possible to eat yourself to death. Of course, should you wish to occupy your downtime in this festive wasteland, there are something like 450 blog posts from me you could wade through. That would save me having to apply any brainpower to looking back at all that time.
Having started blogging in November 2009 I have documented all manner of crap in that time. The decade about to end has, like with every one of you reading this, delivered some highs and of course some heartbreaking, soul-crushing lows. On the negative side, I will remember the decade for two of the most upsetting episodes in my life, which I won't be sharing here, but, as you must, you suck it up, deal with it and move on. Of course, things could have been worse and we are blessed in many ways that I undoubtedly don't appreciate enough.
Of course, one of those blessings has been the arrival of Freddie into our lives. It can be incredibly tedious to listen to someone pap on about their kids and grandkids, but hey, I'm not about to break the habit of a lifetime, but it has been THE highlight of this or any recent decade. What a fun-filled, joy-giving bundle of perfection he is and I apologise for my past and future Freddie related gushings.
A feature, and of course highlight of the last decade (or two) have been our Florida trips. We've been fortunate enough…no bollocks to that…we've worked our absolute arses off and endured all kinds of soul-crushing stuff to be able to afford them, and we've done all manner of glorious things and eaten all kinds of filthy nonsense. They have defined the childhood's of the girls in many ways, and, fingers crossed they will continue to do the same for them and Freddie in the years to come.
So that'll do for today. Hopefully, the new year and decade of blogging will see a glorious return to the incredible content I am renowned for producing.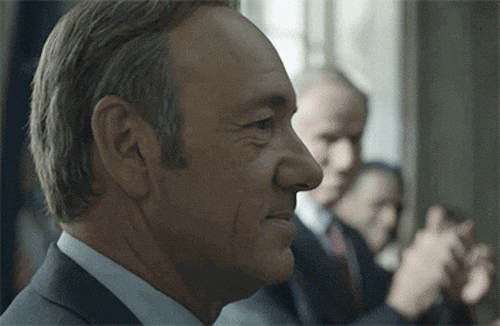 Look, I know I overuse this gif but it is useful in so many ways.
I hope the new year celebrations and whatever follows them are kind to you and yours and your WDW trips are frequent and glorious. Seasons greetings and best wishes for 2020 and beyond from everyone here at Mkingdon Towers.
Till the next time…….