There's a famous quote from George W Bush that goes something like, "Fool me once, shame on me, fool me twice…we..er…shame…we won't get fooled again". I use it not (only) to highlight the amazing fact that this guy got elected to the most powerful job on the planet but also to tell you I stupidly ignored his wise words this week.
Unable to avoid a trip for work meetings to Marlow on a Thursday, after a stop over in High Wycombe's finest Premier Inn, I had to then, for just the second time ever attempt the journey north on a Friday afternoon.
If you wanted to, you could go back through these blog posts and see me whining about a previous horrific journey on a Friday at some point in the past, followed by me swearing that I would never do it again.
Well, I did, and it was bobbins. Even with an earlier than usual exit from the office it took just under five hours. The M6 is just no longer fit for purpose and we should all get a refund. I could fly to New York in a similar time frame. Let me now declare once and for all that I shall not be doing it again, unless it is because I have had to drive to Head Office on a Friday to hand in my notice due to a lottery win.
The evening before I enjoyed a tasty (and large) curry, and we were entertained by an Indian Elvis.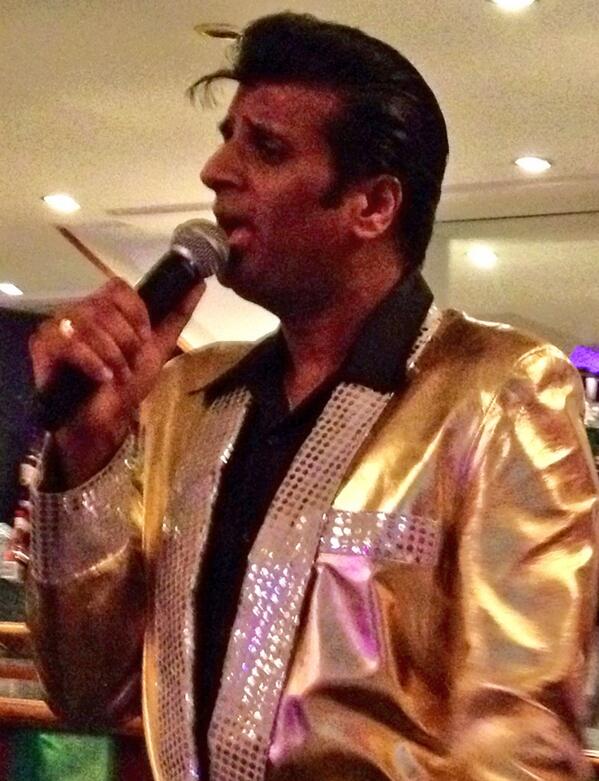 He was good fun, and made what might have been a fairly tedious mid week night away with work into a good laugh. Being the wild animals that me and my (similarly middle aged) colleagues are, we were up until at least 11pm. Crazy stuff.
The weekend hasn't been anywhere near as exciting, mainly as Louise has been chained to the computer producing her latest assignment for her Nursing course. This has meant that I have had to amuse myself, sit around, eat, watch football, oh yes and do some ironing. Yes, I am that dream man who all men want to be, and all women want to be with.
Encouraged by the weather reports, predicting tarmac melting temperatures and the potential for my skin being burned from my face this weekend, I ventured out and took the dog for a walk this morning in a lack of layers not seen since last August. Imagine my delight to find the temperatures lower than George W Bush's IQ. I have instructed my lawyers to begin proceedings against the Met Office. Oli seemed oblivious to the gloom, fog and cold.
So if you had sun today, please keep any news of it to yourselves as I've just put the heating on again.
Before I go, thank you to those who added a lovely review for me following my request last week. The general underlying theme seems to be that folks are finding it to be better than they expected. Well, that's fair enough, and that is more or less how I feel about it too! I got my hard copy this week and it looks OK, but I can't bring myself to read the thing again. Not yet anyway. If you got it too, I hope you don't feel the same.
Till the next time….