I am a weak, weak man. I have the backbone of an amoeba and the integrity of a politician. Having committed to something in the sanctity of a blog post, I have reneged, defaulted and failed that promise in spectacular style.
What is this heinous crime?
I booked another ADR.
I know what I said. But honestly, it makes sense, and I should know having spent more time than I should justifying it to myself before doing the deed. Sure, we need to be on a tighter budget on this trip, and on-site dining is expensive but…..but….well, I wanted to.
The justification goes like this.
I have booked it on my birthday, therefore, it qualifies as a treat for me. We will (of course) be in Epcot all day, right though to Reflections of Earth, for the last time ever on one of my birthdays, and that deserves commemorating. We therefore don't want to be having to leave Epcot to find an off site eatery. That takes two hours plus out of the day, and what finally pushed it over the edge……I loved the pizza at Via Napoli last year and I want to eat it again.
To be exact, everyone loved the pizza at Via Napoli, and that plus its location right in the middle of my traditional World Showcase birthday pilgrimage makes all sorts of sense. So there we go.
To be honest….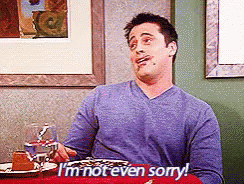 Other than a needless countdown update (107 days folks), there is little else to report holiday planning wise from this week. On Tuesday we went out celebrate Rebecca's birthday at a newly opened TGI Fridays. It's almost American-ness peaked our anticipation for the two weeks of awesome eating we have in store. Freddie in particular is, based on his reaction to every dish's arrival, which was a "WOW" and eyes like dinner plates, is going to have his mind blown. One year at his age makes such a huge difference in him knowing what is going on of course. At my age, it's reversed and thankfully not (yet) quite as drastic.
I went full American and had nachos (yes, I know….) and a burger but shamefully I could not manage a dessert. Although, to reassure you all, I did manage a slither of birthday cake instead…..I'm not that much of an amateur. It is safe to say though that in my advancing years my appetite is not what it once was. That's a good thing, as my ability to gain weight is without rival and if I could eat like I used to in my twenties I would be featured on one of those "My 600lb Life" programmes and need to be winched out of bed every morning.
Those of a football disposition may raise an eyebrow at the timing of this celebration. You may know that I am a life-long Liverpool fan, and Tuesday night saw the second leg of the Champions League semi-final against Barcelona. Now, after the first leg, missing the second to celebrate Rebecca's birthday, which by the way, was never a competition, I like football, but it doesn't compete with things like one of the girl's birthdays, wasn't too hard as the mighty reds were 3-0 down and very unlikely to go through.
Having seen a few Liverpool comebacks over the years I did record the game on the off chance something miraculous happened. I decided to do a "Likely Lads" (ask your Dad) and try not to know the result until I got back home, so that I could watch the game "live". I didn't remove my phone from my pocket for the entire meal and briefed everyone else not to breathe a word of any news they may come across.
To cut a long story short, I found myself sat in my front room, past midnight, being a little bit more emotional about a football game than a man of my age should be as the final whistle blew (two hours after it actually did). It does strange things is all I can say. If you get it, you get it, if you don't, you'll think I'm an idiot.
That is all I have time for today folks. We are off to meet Rebecca, Tom and Freddie at the local park before I settle in for more Liverpool related nail biting. I am even less hopeful of a miracle today, but it's the hope that kills you in football.
Till the next time……