There was a hint of a lie in this morning. It was a leisurely 9.30am by the time everyone was vertical and as I am a rat race drone, conditioned by years of monotonous work-based drudgery and now incapable of sleeping beyond 8am, I spent that time doing fun things like putting the bins out and putting a wash on.
With our days remaining dwindling now our kitchen cupboards were looking a little empty but I managed to find Freddie some Cheerios and we watched some TV whilst he ate them.
All this dilly-dallying would normally have had me gnawing my limbs off, but with us being hard at it, pace-wise over the last few days and having had a late night last night I was super chilled daddio. No rush to be out this morning….honest.
Despite the later start nobody managed to feed themselves so we stopped at the local McDonalds for breakfast. I parked the van and as we all tumbled out of it we were being waved at frantically by what looked like some of The Village People from inside the restaurant. It was not a 1970's themed promotion but instead, a sign that the one particular McDonalds franchise we had chosen, from the millions available, was closed for refurbishment.
Their exaggerated arm gestures did suggest that drive-through was still open so we all piled back into the van and made our way there. Six hungry people in a van, with a seemingly unintelligible northern England accent in a foreign country….what could possibly go wrong?
What fun I had shouting over my shoulder into the dark recesses of the van to gather information on food requirements to then shout it out of the window at a small intercom which responded with crackles and scratches. That only took ten times longer than I would have liked.
Naturally, we were asked to park up and wait for our food so we did. A few minutes later a brown bag was delivered to us and we very quickly discovered the shocking news that our order was wrong as we were missing Emily's veggie option and Freddie's drink. So round we went again to shout some more into the void of the intercom before being asked to park up again whilst they fixed their errors. Sigh. Fast food?
More minutes passed and another brown bag arrived. We soon discovered that Emily's meat-free burger was actually the very meaty version. Emily point blank refused to go round again and said she'd get something in the parks, should we ever get there. Tom ate the meaty burger as an act of selfless sacrifice.
Finally, we were heading to Hollywood Studios and we parked in a very hot Mickey and trammed our way to the entrance.
Having spent a lot of time 30 days ago making FastPasses for this morning, upon realising that we weren't doing mornings today, I had seamlessly shifted them all to the afternoon. You may find it as hard to believe as I did that we only entered the park at 12.20.
After a restroom stop for Freddie we quickly made our way to the 12.30 Frozen sing-a-long show. We had all enjoyed it enormously the other day and we were a little disappointed that the male storyteller wasn't the same hilarious one we had previously. We enjoyed it still but didn't laugh as much.
More restrooming before heading into Indiana Jones for the 1.15 show.
We were seated just as it started only then to find them having serious sound issues for a good while. Eventually, the show got started….
Freddie wasn't too keen on some of the loud bangs we were very close to so I took him out, or at least up to the back of the theatre where he felt much more comfortable and we watched the rest of things from up there. We were the first out of the place as the show ended and the others were not too far behind.
This brought us to one of our FastPasses at Star Tours. Louise assumed Freddie duties whilst the rest of us rode. As we rejoined Louise, it was time for a Freddie nap so we decided to wander some shops to allow him to fall asleep in his stroller. He didn't so instead we headed over to the Dance Party for which we had a 2.25 FastPass.
I know this may seem like a silly thing to say, but there were a LOT of kids here.
Rebecca and Tom sat on the floor with Freddie and we found some actual seats towards the back.
Dancing happened. See how Freddie has already perfected the "Brent"….
Two thoughts occurred to me.
Imagine being a cast member at this show and seeing that six times a day.
It was good but comes nowhere near the classic version we took the girls to all those years ago which included the legend that is Bear in the Big Blue House.
After experiencing all those kids in such a confined space, we needed sustenance. Emily and I had a cheesy pretzel, but I was confident CVS would have a cream for that. Louise, Emily and Rebecca had a Hollywood Lights cocktail from a cart next to the pretzel booth thingy. We all had a sit down for a bit whilst those things were consumed.
After that, we did some shop wandering on Sunset Boulevard, killing time until our Rock n Rollercoaster FastPass at 3.40.
Rebecca and Tom rode first and we discovered that somebody has built a whole new bit of the park here. Nobody told me….
It was too hot to do anything silly like walking around that new area so instead, we used a bench to people watch and rest.
It was soon our turn to ride. See how we naturally attached ourselves to the exit door to gain those vital few places in the queue……
After riding, we caught up with Rebecca, Tom and Freddie in the Pixar shop before then riding Tower of Terror via standby which was a very palatable few minutes. I did not ride, instead, I took Freddie on a full lap of the entire park as my way of saying goodbye to it for now. I know this may sound odd, but strange things happen towards the end of a WDW trip…for me anyway.
As I was trying to soak in as much of it as I could by not blinking unnecessarily, Freddie was enjoying the ride (I was walking at full man pace) waving at cast members. As we came to the end of the loop we stopped to do some hula hooping. Well Freddie did, I'm not sure they had my size.
We met up with everyone else at the top of Sunset before making the sad final journey to the exit and the official goodbye to the park for this year. Emily cried a little whilst I just buried the hurt and upset deep inside like you are supposed to.
We made our way back to the car….and notice how Louise blows tens of dollars on an official WDW spray fan thing when we have just two days to go…..
We were headed for City Walk for dinner tonight. We arrived at 5.57. I know that's an exact time check. The reason I know that is parking becomes free after 6pm, so we pulled to the side just before the payment booths and waited for three minutes. I'm not proud of it, but at the same time, not ashamed either. It is what it is.
We parked, for free, in Cat In The Hat 360 and made the long journey on foot through security and to City Walk.
We went straight to Cowfish as we were hungry, of course. We were seated immediately.
I went all crazy and abandoned the diet coke and went for one of their delicious milkshakes.
There was wine and cocktails for the ladies and Tom joined me in the milkshake…..we didn't share, he had his own.
Louise returned from a restroom visit with disturbing tales of shallow bowls and furious hand washing. Despite this, we ordered…..
Rebecca, Tom and I had the Cheeseburgerooshi. I know we've eaten some terrific stuff, but I have to say, and Tom agreed, that this was the tastiest thing of the entire trip.
Undeterred by shallow bowls, Louise had an upside-down Spicy Burger.
Emily had the Veggie burger option….
Freddie had the grilled cheese sandwich and loved it.
Tom managed a deconstructed chocolate cake and I had a coffee. The bill was $206 including an 18% tip. We loved it here.
We had a slow wander around City Walk. It was one of those lovely dusky, twinkly light times, made better by the glorious warmth. We soon came across the fountains and Freddie was straight in.
He loved playing here as much as we all enjoyed watching him. This was one of those unplanned, glorious memory moments and one I think we'll all remember for a long time.
Being very wet, Freddie was then whisked off to the restroom to get changed into the spare set of clothes a very organised Rebecca and Tom had with them.
Whilst they did that the rest of us sat on some chairs next to the fountains, again soaking in the surroundings, weather and all-round gloriousness of where we were, banking it to somehow get us through the bleak cold winter to come.
With everyone back together we made our way over to Voodoo Doughnuts. We were not in any way hungry, but we'd vowed to try them and we wouldn't be back here this trip, so sacrifices had to be made at the altar of gluttony.
Emily and I queued and chose a selection of six.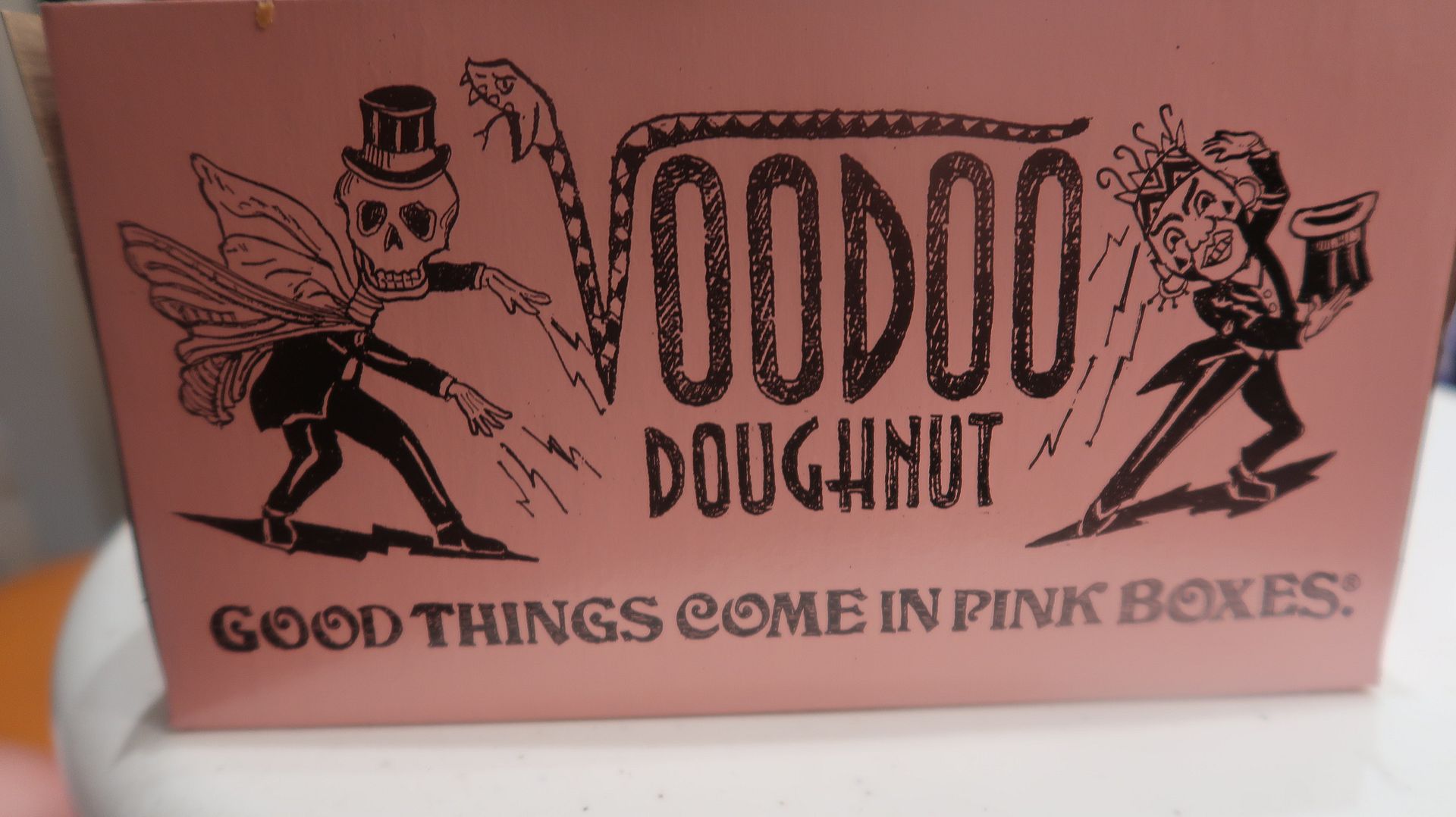 We sampled the wonders of the glorious pink box, which I'm sure is one of those films you can buy on your TV in hotel rooms, but most of the doughnuts came back to the villa with us to be eaten later.
We made the long journey back to the car and after those 10,000 steps we made our way home stopping at a gas station for fuel and some milk. We were home by 9 after a very lovely day.
Till the next time……