Staring down the barrel of our first non WDW year since sometime around 2001, the pain is becoming unbearable.  So much so that on Friday afternoon in a quiet moment at work, I glanced back through the photos on my phone, and eventually came to the ones taken last August in Florida.
I felt the urge to tweet a photo of the now infamous Donut Burger from the Teak Neighbourhood  Grill, stating how much I missed it.  A retweet from Emily and a brief Twitter conversation with the sister-in-law led us to a Saturday night based around re-creating the dish here in the UK.
So between us we procured the required ingredients, and I kicked off the cooking.
In terms of ingredients, I suppose I should list what you might need, but to be honest it is fairly obvious.  Anyway, we had ten diners and used –
Two dozen glazed Krispy Kreme doughnuts.
Twelve good quality beef burgers
Some maple cured bacon
Cheese
Chilli Fries (made by sister-in-law)
A selection of mustards, ketchup, BBQ sauce and mayo to suit all tastes
The burgers said to fry them, so I did.
With the bacon under the grill, as soon as stuff was ready I started to plate up.  Before I did I quickly melted the cheese on top of each burger.  Plating up is a bit messy, as the sugar glaze stuff gets everywhere!!
I had been afraid that the finished article would bear no resemblance to the real deal over in Florida, but I was pretty chuffed to be honest.  To be fair, it isn't the most technical of dishes!
Amongst the diners present, only Emily and I had actually eaten the real thing back in August, so I had no idea what sort of reaction there would be.  Our other guests had been to Teak during their recent Florida trip just after Christmas, but had different dishes.  My brother had tried (and failed) to polish off the Heart A-Teak.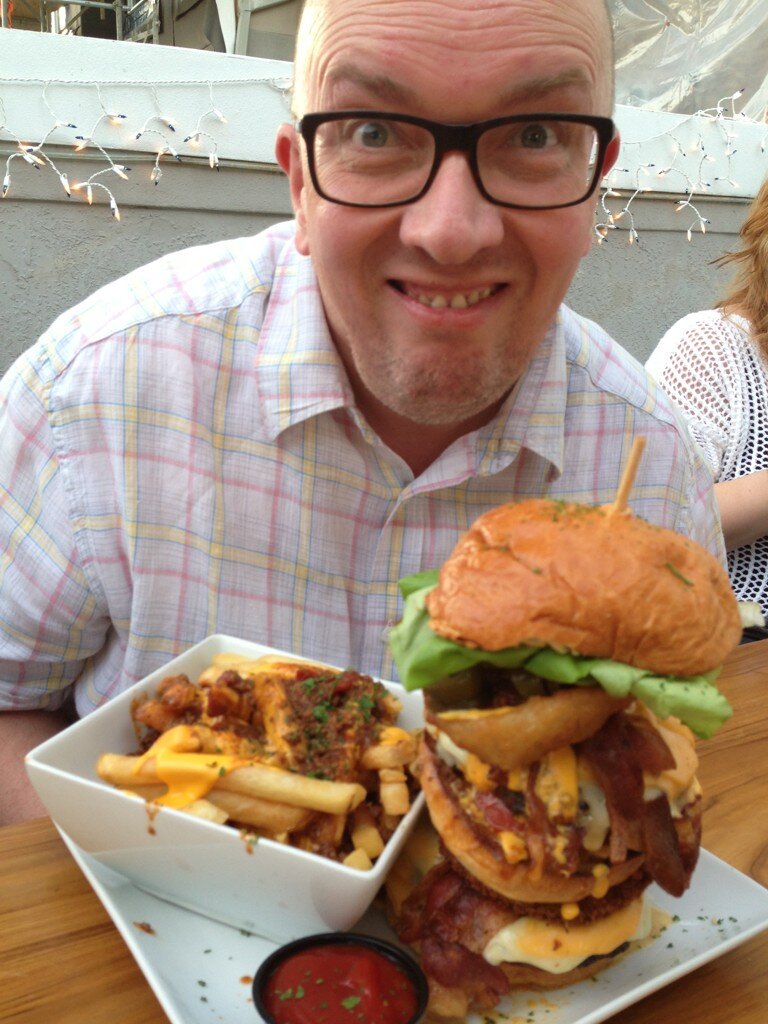 I needn't have worried.  Everyone seemed to lap it up!!
That expression is I think a mix of disbelief and joy!!
Rebecca and her boyfriend Tom were equally impressed.  Tom is a fitness freak so I wasn't sure how he'd react, but he wolfed it down.  That burger, along with the chocolate cake and custard to follow rid him of his ugly six-pack in one go!
Emily's aversion to photos knows no end, similarly her love for this dish.
Nephew Jack had necked the lot by the time I had got to him.  I took that as a good sign.
Niece Sarah was also won over!!
By this time plates were becoming clean and I had spent enough time snapping and I needed to eat my own!!
That didn't take long, and with a choice of New York Cheesecake or Hot Fudge Chocolate Cake for "afters" everyone was soon suitably immobile, tired and I think happy.
Full of food and topped up with wine and beer we discussed how we should open an American inspired restaurant, with dishes like these, the obligatory eating challenge, and an old-fashioned traditional ice cream and American soda bar.
We had loads of great ideas, and between us probably enough knowledge and business sense.  Alas, we lack the couple of hundred grand to get it going so instead we had another beer and finished off the wine.
So, in an attempt to fight off the lack of America blues I have managed to replicate that "none of my clothes fit" fear for my next day at work by consuming a ridonculous amount of calories.  We also have no money, so we can almost pretend that we've just got back from Florida.  Can't we?
A couple of tweets and Facebook posts of said burgers drew a wide range of comments.  All I will say is that those expressing revulsion, concern or sheer horror…..like all things in life, don't knock it until you've tried it.
If any of you are heading to Florida soon, give the Teak a try, and tell them I sent you.  Whether you have or indeed like the Donut burger, you'll have a good time anyway.
Not that I'm missing the place at all…..
Till the next time…..